This week has been a busy blogging week- I've been trying to play catch up on my
30 for 30 posts
, fighting a heavy chest and head cold, and meanwhile there's a lot of current fashionable happenings to cover! This has lead me to double up on blogging to cover all my current interests as well as posting for
Kendi's 30 for 30 fashion challenge
I've been participating in.
Oh, and by the way, you should really check out some of my fellow
remixers
! (I plan to eventually do a post showcasing my favourite fellow remixers somewhere along this 30 outfit journey...it's on the long list of great blog post ideas I have been jotting down.)
For this outfit, I took a floral print summer dress and paired it with a military shirt, boots and tights to make it more seasonally appropriate. I wore this outfit Monday for a day of work and to attend the
Customer Appreciation Event
at Reflections Day Spa that evening.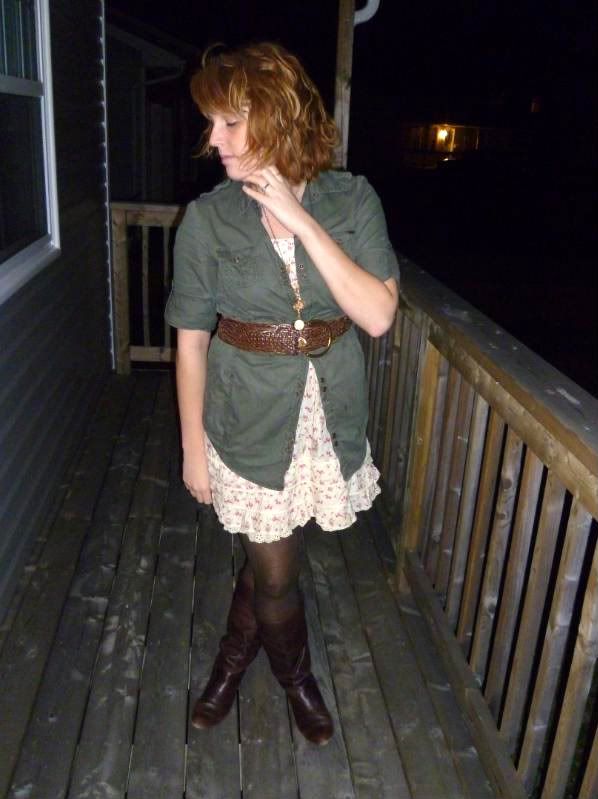 The Outfit
Dress- Mango (Toronto, June '10)
Military shirt- Mango (Toronto, June '10)
Pantyhose- Winners (SJ, Winter '10)
Boots- Aldo (gifted from parents, Dec '09)
Belt- Eddie Bauer (Moncton, Aug '06)
Long gold necklace- Banana Republic (New Hampshire- Nov '10)
Short gold necklace- Swarovski (gifted from Ben, Feb '10)
Coat- Soia & Kyo- Envy (Halifax, Nov '08)
Tonight I'm excited for
Je Suis Prest Boutique
's
Holiday Fashion Party
at The Canterbury Lounge! The event starts at 7pm and will include a preview of the store's new holiday mechandise via fashion show. I will especially be on the look out for pretty potential dresses for upcomming holiday parties! If you were lucky enough to secure a ticket to this sold-out event, I will see you tonight!
If you haven't already entered to win, check out my
giveaway
below featuring a beautiful necklace from
Darling Dilemma
!