Minimalism focuses on the most fundamental features of something: be it a piece of art, design, literature, or just simplying one's life. It can also apply to fashion and an outfit. In the case of my outfit in this post, I choose to go with little accessories. It's always about quality over quantity. There are times when I feel more dainty pieces are appropriate: especially with a bold print or a textured garment.
When it comes to jewelry, my go to is always a statement necklace to give an outfit some pop. But not wanting to over do it, that's also why I am a studs girl when it comes to earrings. If I wear my hair down, long or detailed earrings can just get lost in that big mop!
But I love features such as these earrings I'm sporting in the photos below. They sort of stand on their own within the casual outfit I wore that day.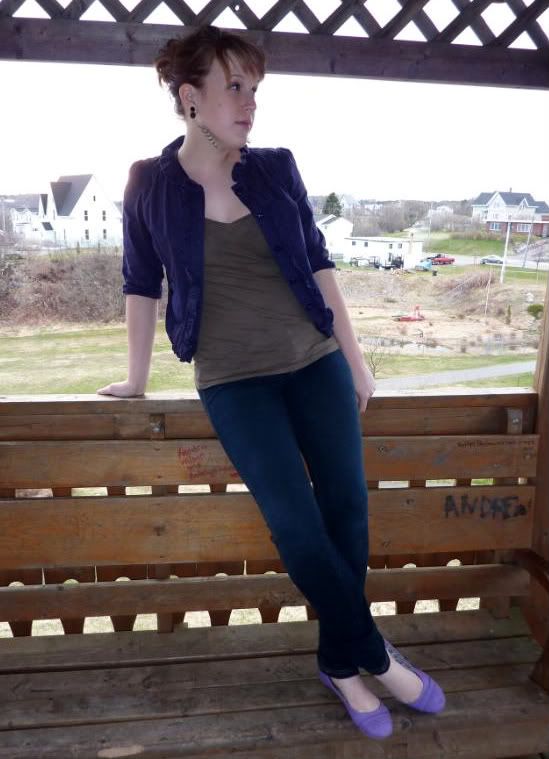 The Outfit
Button-up: Numph- Peepshow Boutique (Halifax, Spring '08)

T-shirt: American Eagle (SJ, Oct '10)

Jeggings: Guess- Envy (SJ, Dec '10)

Flats: Aldo (Ordered online, May '10)

Feather earrings: Little Burgundy (Montreal, June '10)
So, what are your thoughts on minimalism? Do you like to keep it simple or create a more complex outfit? I wouldn't describe my style as minimalistic on a regular basis, but sometimes there are times where more isn't necessarily better.
Tweet