...may flowers. This outfit I wore to purchase a new Blackberry Saturday morning. Unfortuantely, due to, in part, my own stupidity and finished off with the sticky fingers of another- I misplaced my old Blackberry, and then it was snatched up by someone at the tapas bar my sister and I had drinks and appetizers at in Moncton on Thursday evening.
The good news is that we found a white dress for me to wear to the bachelorette coming up next month! Sadly, however, I was coming back from Moncton on Friday minus one phone. I went 36 hours without my Blackberry and I'm a little ashamed to admit it made be realize how attached I am to my phone! I had so many impulses to message friends, take a photo to send to someone, update my status according to something funny or interesting, check the time, set my alarm...you name it. For every person who might not understand my attachment, I know there is equally a number of you that are recognizing my experience as a complete nightmare!
Saturday morning, I donned a new floral skirt, and headed straight down the hill to the Bell store to reconnect to my digital life (aka buy a new Blackberry).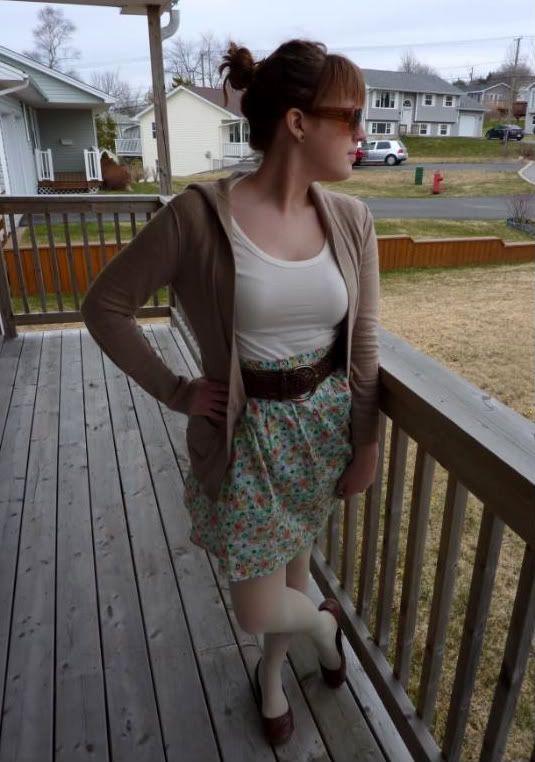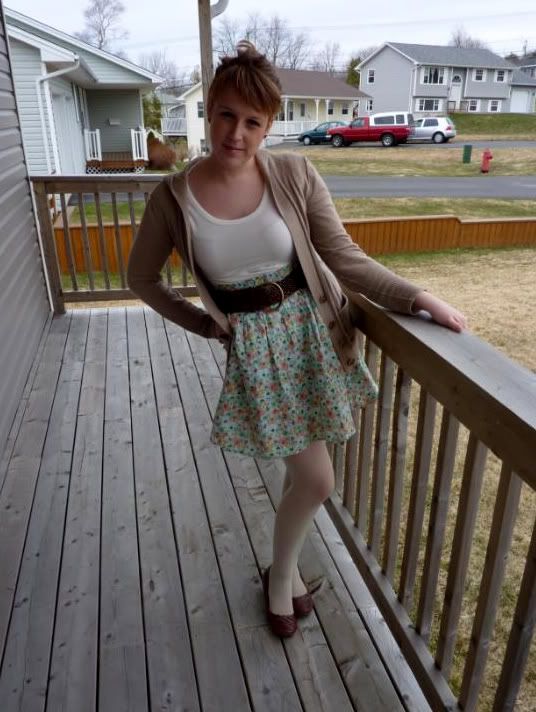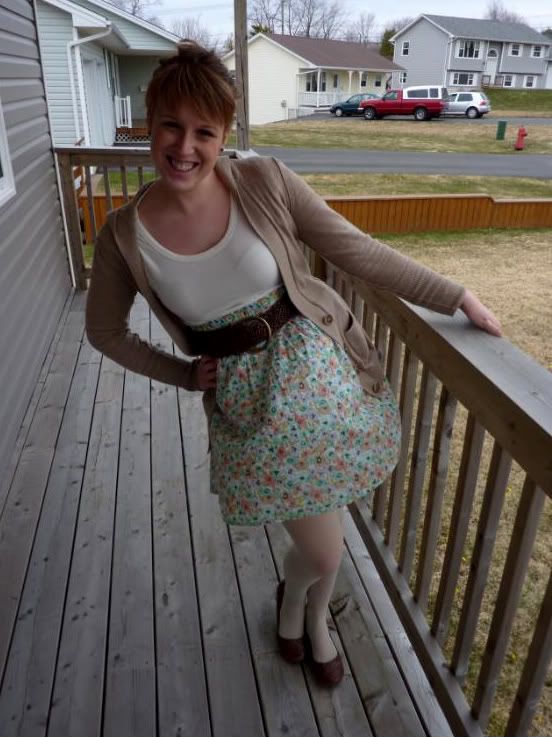 The Outfit
Skirt: H&M (Moncton, April '11)

Hoisery: Hue- Je Suis Prest Boutique (SJ, Mar '11)

Shoes- Aldo (Moncton, April '11)

T-shirt: Joe Fresh Style (SJ, Feb '11)

Belt: Eddie Bauer (Moncton, Aug '06)

Sweater: American Eagle (SJ, Sept '08)

So prior to my expensive mistake, I also picked up these shoes from Aldo to replace my other everyday brown flats that were now officially worn out. And though they appear lighter in these photos, the pantyhose are actually mint green in person!
All in all, I was happy to get a dress I was really excited about for my bachelorette, plus a few other spring wardrobe finds! I've started tucking those winter clothing items away- have you?
Tweet