When I signed on for the
30 for 30 Fashion Challenge,
I stated my one exception to following the complete set of rules: I planned to follow the shopping band except on the day of the states shopping trip I had previously planned with my sister and Mom. Yet, I wanted to take part in the challenge when Kendi was asking who wanted to participate in the 30 for 30. So here was my compromise I stated in my disclaimer: if anything was to be purchased on that date, it could not be worn until the 30 days have past.
So it was this past Thursday that I got up before the crack of dawn, picked up my sister from her apartment and met our parents to head down across the border to shop in
Freeport and Portland, Maine
. I started my morning with a thermos of Starbucks VIA instant coffee- it was early enough that I couldn't stop and pick up a latte- my alarm went off at 5am precisely. We hit up the outlet stores in Freeport and then headed down to Portland to the mall and TJ Maxx. I didn't get home and in the door until after 3am and it was 4am before I was asleep. This intense almost-23 hour shopping extrazaganza threw me off track and that's why I've been a little behind in blog posts, and well, sleep.
I assure you, I've continued to take outfit pictures each day so it's just a matter of doubling up on post content to catch up!
So, back to outfit number 5 of 30: what did I wear for that really long day of shopping?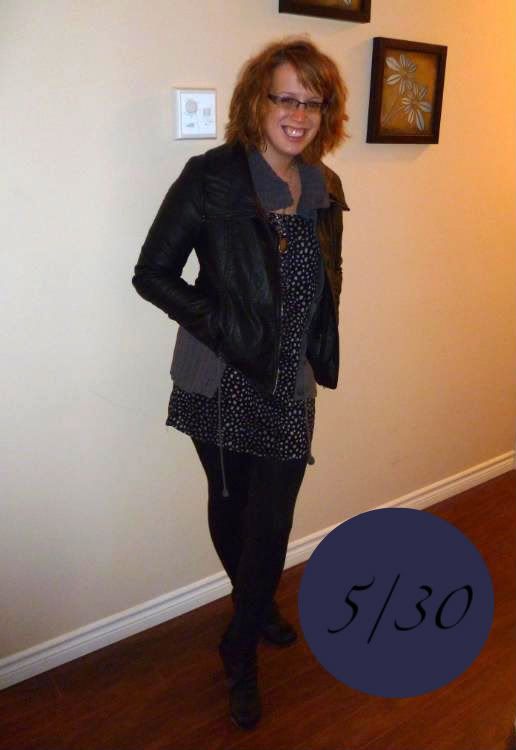 The Outfit
Faux leather jacket- Winners (Toronto, Sept '10)
Grey knit sweater- In Wear- Peepshow Girly Boutique (Halifax, Spring '08)
Spotted Top- 03Everly- Pseudio (SJ, Oct '10)
Black leggings- TNA- Aritzia (Toronto, Sept '08)
Booties- Aldo (Toronto, Sept '10)
Necklace- Splurge (Halifax, May '08)
I have to admit- these are not exactly the best pictures of me...but it was after 3am and I had been napping in the car for the last stretch of the drive! With this outfit, you have comfort- good for sitting in a car for a long drive- as well as layers- good for walking between indoors/outdoors when walking shop to shop.
I'll share so of my finds from the shopping trip in an upcomming post!