So I'll admit, I've sort of bended the rules for the
30 for 30 challenge
. I realized a few flaws in my choices that was making it difficult to maximize my 30 items to their full potential. I've decided to swap out a few items- but only because they have not been worn to date....so technically, I still won't be wearing more than 30 items in 30 days! So I hope this might remedy my offense...
I have a hard time committing to clothing selections in advance- just ask anyone who has seen my packing. Disaster. So the problems I have encountered: I threw in a pair of wedges and a pair of cage heels into my 6 picks for shoes, but as much as I love heals- I don't wear them day to day because they are not practical for my job. (Hence why you are always seeing me in those black flats!) I've traded them both in for 2 pairs of flats:
And the pink dress with black knit overlay: I forgot how short it was and it just has not been a practical choice for day to day wear! It does look super cute with pink pantyhose and a long sleeved black tee under neath, but unfortunately not appropriate for day to day. I swapped it with another dress than is easily paired with leggings:
I have to admit, the 30 for 30 is really making me miss other items from my closet! I no longer take my extended wardrobe for granted, that's for sure! And now, without further delay, I give you my next outfit as part of the 30 for 30: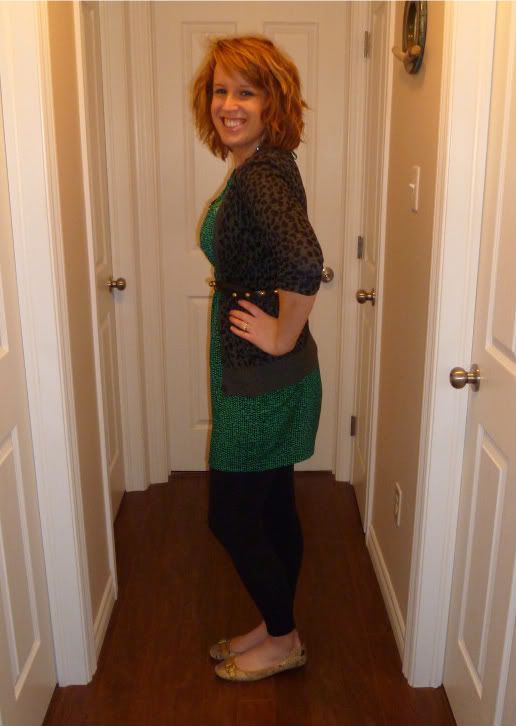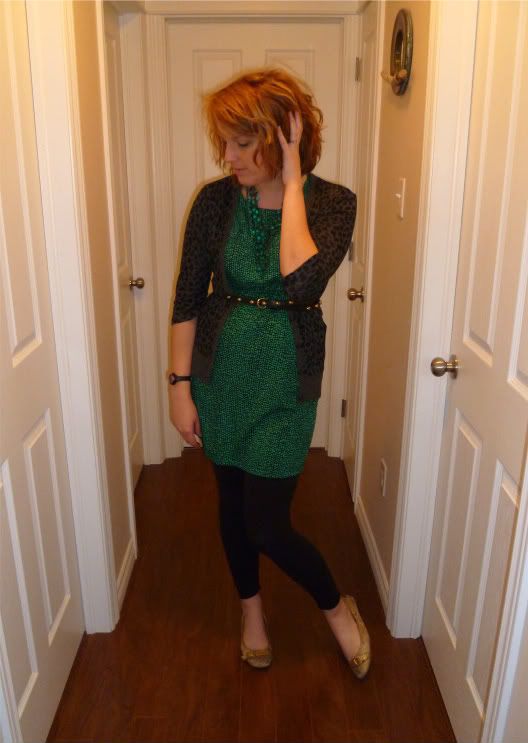 The Outfit:
Dress- Buttons- Francesca (Portland, Nov '10)
Sweater- Dynamite (gifted from Katie)
Leggings- TNA- Aritzia (Toronto, Sept '08)
Belt- Chinese Laundry- Je Suis Pest Boutique (SJ, Oct '10)
Shoes- Michael Kors- StyleSense (Toronto, Sept '08)
Necklace- Forever21 (Portland, Nov '10)
I have to admit, my black leggings have become a little thinner for wear and I am definitely going to need thicker ones for the weather! I'm looking for a pair with quality thickness in the material as well as a thicker waist band. If you could leave a comment as to where you've gotten your favourite leggings from, I'd really appreciate the suggestions!