Right now, I kid you not, my chosen 30 are sitting around my dining room table, hung over the back of chairs and separated into categories (i.e. top vs. bottom). I will admit, you look into my closet and it doesn't look like I removed anything at all- it's still jam packed! Given that, it's probably a good experiment for me to be participating in the
30 for 30 Fall Challenge
- live on the wild side and experiment with the bare minimum.
So as I start this fashion challenge, I also have a storage challenge: where do I put these clothing items so I can pick them out easily from the rest of my wardrobe I am ignoring for the next 30 days? Hmmm, let me get back to you on that one...
Yesterday I kicked off the 30 for 30 with a plaid flannel button up and some denim skinnies: something comfortable on the rainy drive back from my girls' weekend in Moncton.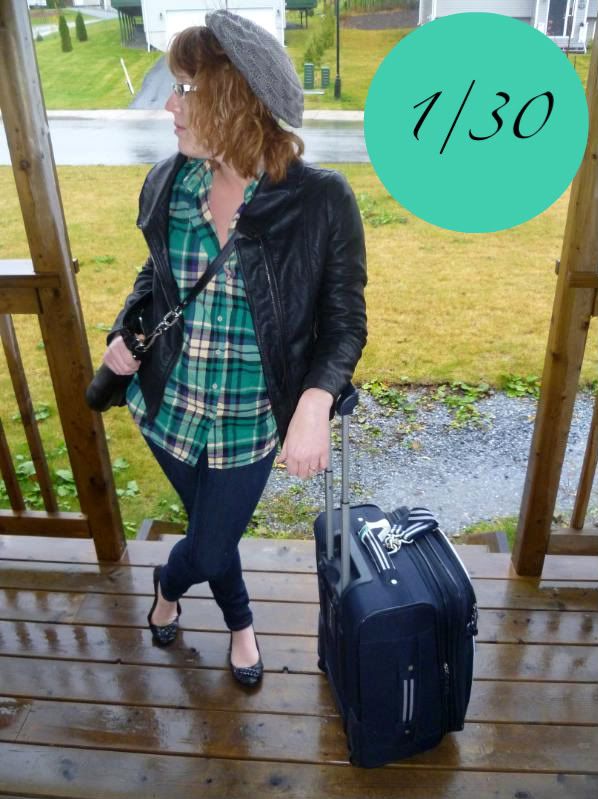 Outfit
Plaid top- Joe Fresh Style- Superstore (SJ, Oct '10)
Skinny jeans- Nissi- Pseudio (SJ, April '10)
Black flats- Aldo (Ordered online, Oct '10)
Jacket- Winners (Toronto, Sept '10)
Purse- Coach (Toronto, Sept'10)
Hat- H&M (Moncton, Nov '10)
You really can't tell in these photos, but it is raining in the background (for the 3rd day straight).
I was impressed with myself: for a girl who's just embarked on a shopping freeze, I didn't go buck wild with my spending leading up to it. I think I'm starting to feel wardrobe saturation...for now. Until next season when I'm hit with new look books and trends. All I bought while away was this grey beret for $12.95.
I did not include coats and jackets in my 30 items- our climate is too cold this time of year in New Brunswick that they are a daily staple. Depending on the weather on any given day, I may need a different jacket to prepare me for the elements!