Emma of
Darling Dilemma
has so kindly provided a piece her work for a
blog giveaway
! Read below for a little background on
Darling Dilemma
via an interview with the feature artist:
1. When did you first start creating your own jewelry?
Back in high school I would make myself long strings of tiny seed beads, in various colours to match specific outfits or wardrobe pieces. As time went on the strands got a bit more advanced, as did my understanding of colour & before I knew it friends would ask me to make them one & strangers would compliment me on the street & in shops. When I first decided to sell some on Etsy it was intially because I had too many beads building up & I couldn't figure out how to ship my paintings, but it quickly took on a life of its own (& now I have more beads than ever!).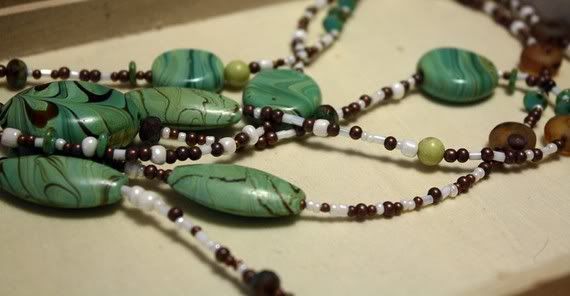 2. What type of materials do you work with most often?
Semi-precious stone & czech glass, I source my beads from all over! I never miss a chance to check out a bead shop & then I constantly hunt online for unique beads to fill out my collection.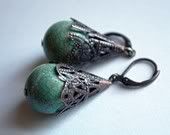 3. What are the sources of inspiration for the pieces you create?
Gee... it can be really anything! I often find that the seasons guide me to colour choices, which is why I named several of my lines after them (currently 'Fall in Love' & 'Winter of Content'), but also my favorite colours currently in the stores (I love to shop!) or my own favorite article of clothing. Of course I also do a lot of custom pieces or take requests & that extra bit of challenge to create something in someone else's favorites really inspires me!
4. Do you sell your jewelry anywhere else besides your Etsy site?
Currently I find that Etsy meets my needs & I like the community of it! I also do a lot of sales directly thru the networking of my facebook fanpage www.facebook.com/DarlingDilemma taking most of my custom orders there. I try to make it out to some local craft shows as well, but being a mother & having two jobs besides Darling Dilemma, keeps me pretty busy!
My next show/sale will be at the New Maryland Christmas Theme Craft Show, this Saturday (November 20) at the New Maryland rec centre from 8am-4pm
5. How often do you typically produce a new piece?
I try to bead nearly every night. Some pieces can take one night, some several. Of course motherhood & sleep sometimes win out over beading....
6. How would you describe your personal style?
Mostly business casual I suppose. I spend a lot of time driving & then working with children so I need to be comfortable, but I really can't resisit making an outfit 'mine'. I have huge amounts of jewelry (imagine that!!) & plenty of colour. These days I've been rocking the mid length denim skirts with chunky shoes, tights (in colours or patterns), a great sweater & chunky jewelry. I also bought amazing legwarmers on etsy that were hand crocheted.... oh gosh they are gorgeous! I sell on Etsy but I am also a complete Etsy addict!
You can find out more on Emma's lovely jewelry and other works through Darling Dilemma's...
If you haven't already, be sure to enter the
giveaway
for a chance to win the
Autumn Gold
necklace!