So week before last I decided to photo log my outfits for a work week to post- I thought it would be a turn of pace since I usually only share my weekend style. My outfits usually reflect my mood or sometimes how much energy I had that day- most times when shop I try to buy pieces that would be appropriate for work (yay, business casual!)- aka. all bits are covered. That way I can justify cost per wear! But, of course, I can't wear those mini dresses or low cut tops to work, but it's nice to play it up a bit on a weekend social outting!
What:
Light grey top- RW & Co. (30% of sale the previous day!)
Black pants- Ricki's
Leopard print ponytail scarf- Coach (Toronto Dec '09)
Crystal heart necklace- Swarovski (gift from Ben 2 yrs go)
Black flats- Steven by Steve Madden- Town Shoes (Toronto Dec '08)
Why:
I had just bought this top the day before and I always love the feel of wearing something new! I'm never one of those girs who might buy something and find it in my closet months later with the tag on. New items are fresh and exciting to me!
What:
Cream coloured belted short-sleeved sweater- Abercrombie (Bangor Nov '09)
Brown jeweled tank- Abercrombie (Bangor Nov '09)
Dark brown pants- RW & Co. (Dec '09)
Gold flats- Michael Kors- Style Sense (Toronto Sept '08)
Gold necklace- Swarovski (gift from Ben)
Why:
I started with the sweater, going for comfy but cute! Under this sweater, since it's loose, I try to wear something form fitting. Then I went for gold accessories because they coordinated with the tank.
Wednesday
(Photo unavailable)
What:
Purple blouse- RW & Co. (2 years ago)
White pants- RW& Co. (30% off sale earlier in the week!)
Brown flats- Aldo (ordered online 1 yr ago)
Pearl bracelet- Le Chateau
Missing: Multi layer pearl necklace- it broke that morning in a meeting! :(
What:
The pants were new so I started with that piece and thought the purple wold be a nice contrast.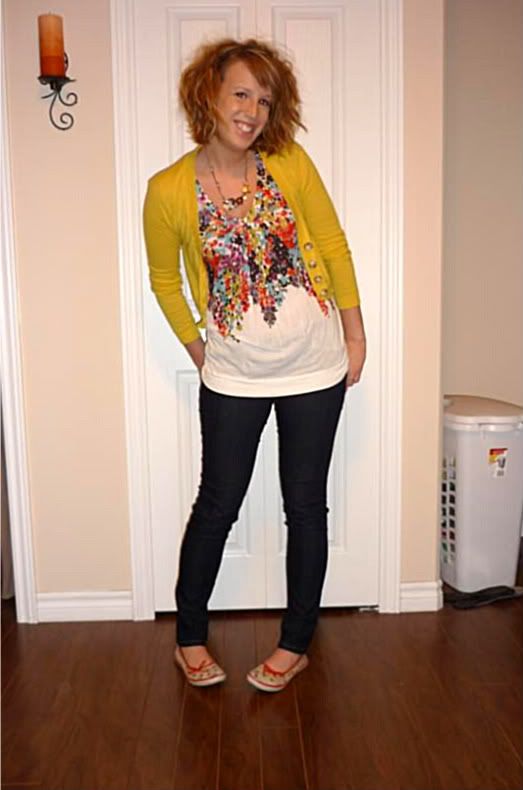 What:
Yellow cardigan- Club Monaco (Halifax 2 years ago)
Flowered loose tank- American Eagle (2 years ago)
Skinny jeans- Nissi- Pseudio
Cherry flats- Keds- Athlete's World (Fredericton 4 years ago)
Necklace- Anne Marie Chagnon- Beckwith & Co. (gift from my parents)
Why:
Something loose and comfy on the upper body because we were driving to Halifax and I had to sit in the car for 4 hours! The pants, although they are very form fitting, are amazing comfortable too (love pants that have a bit of elastic quality to them)! I was happy to see Friday, so I went colourful!