One thing I do like about shopping uptown in locally owned stores and boutiques as compared to the experience in a chain, mall, or box store is the service. I don't know if it was just the sunshine or the onset of the weekend but when I went shopping Friday afternoon everyone in
Brunswick Square
and
Market Square
seemed to be in a great mood and very friendly! I received excellent service and everyone was very customer focused! (Have you felt in the mall or in a bigger store that you have to play eyeball war to catch a salesperson's attention, or search between racks to see if they actually exist?)
I grabbed a tall non-fat no foam carmel machiatto from Starbucks and then headed into
Je Suis Prest
, where I was greeted by Kiera and Joy, always looking so cute and stylish! I had been reading in
Harper's Bazaar
online that one of the upcoming summer trends was
loose-fitting pants
, which I wasn't buying into until I saw Kiera sporting a pair of menswear inspired pants and she was totally pulling off the look! (I now wish I had asked her to take a photo of her outfit..)
I was loving the new
Free People
clothing (which I may need to make another trip back in to browse through again), but was giving the sale racks a lot of attention on this visit. I found a
BB Dakota
tan blazer on sale for $27.00 (reduced from $110)! I've been adopting a love of stylish blazers lately- especially well tailored ones that aren't full sleeve, so that you can neatly roll the sleeve above the elbow- I have one in grey, but very tempted to purchase one in white (which is a very in colour for the summer). It's a great way to dress up many outfits. I was told this blazer is a copy of one put out by Dolce & Gabbana.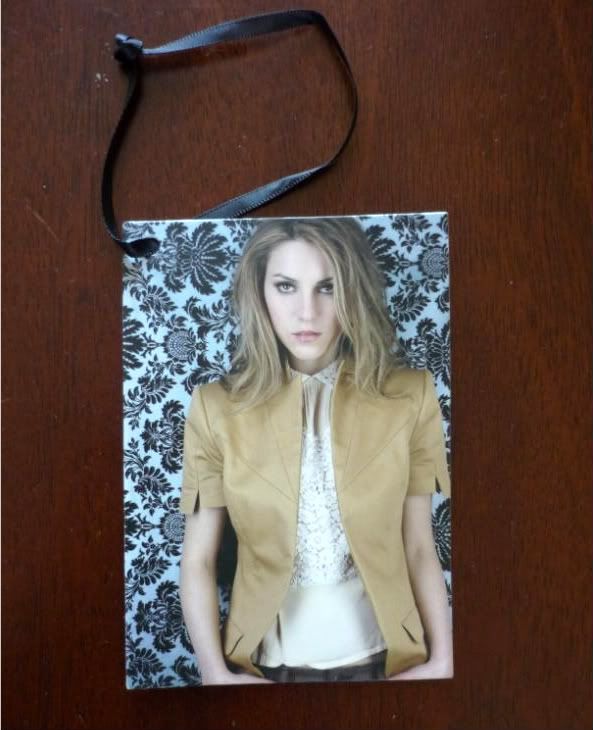 Here's me sporting the coat the next day:
Back to Friday- I paid a visit to
Walsh Luggage
. The sales lady was very friendly and talkative- and we share our mutual love for clothing shopping uptown, haha. She also mentioned the
Spring Fling
event on
Wednesday
(which I picked up a ticket for today!) and said that it will even feature clothing from
Envy
(which isn't opening for almost another 2 weeks), so great way to get a sneak peek.
I made a quick stop over in
Baubles
on my way back through Brunswick Square. The lady there was also very attentive and friendly. She even complimented me on my shoes! (Actually, I think I may have had a few people tell me they liked my shoes
:)
) Although they are pretty and perfect for spring, I had to agree with her, they fall into the 2 hour wear category! (And I may have had to switch to black flats when I went grocery shopping after this...)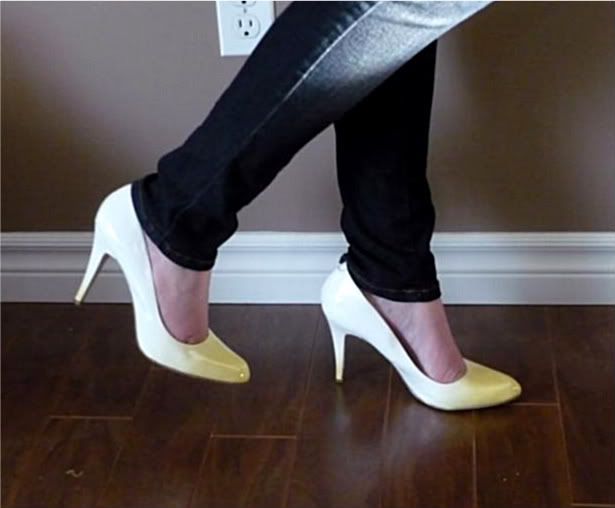 Yellow & white patent leather pumps- Aldo
I love them and they matched my
Coach
clutch so perfectly!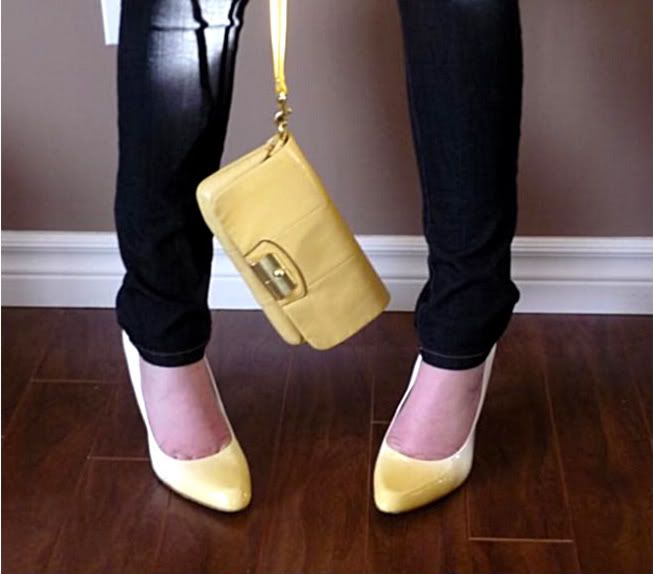 Later that evening, I got dressed up in my new
American Apparel
dress that I bought
last weekend
, slipped on a pair of nude heels and then Ben and I headed over for a few drinks at Shauna's place, followed by appetizers and bevies at Churchill's and dancing at O'Learys!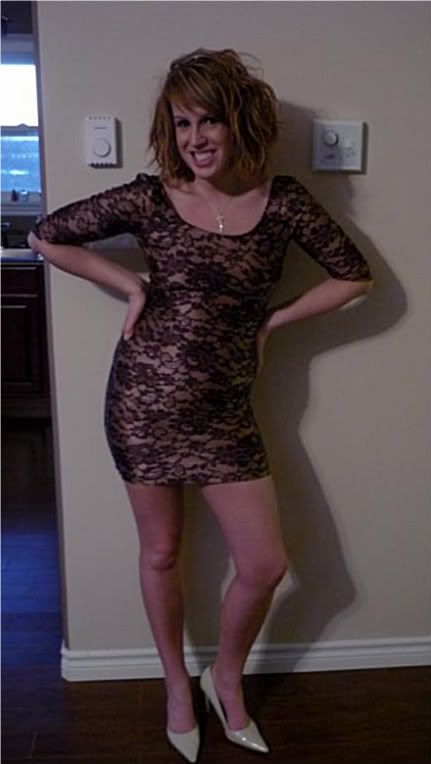 What:
Lace print nylon dress in black and blush- American Apparel (Halifax, last weekend)
Beige patent leather heels- Aldo (Halifax, 2 yrs ago)
High heel necklace- Dogeared- Je Suis Prest
Key necklace- Charm Diamond Center (that evening- on sale for only $19, marked down from $39)- which is an immitation of
Tiffany & Co.
's keys.