You'll see that in the upcoming days, many of my posts will follow a
Sex and the City
theme, in honour of the soon-to-be-opening movie! I was browsing those I following on twitter the other day- one of whom is
In Style Magazine
.
For fun, I decided to click on the link and take the quiz:
Left click the photo above to open the link in another tab or window, and then take the quiz yourself!
Of no surprise to me, my result was the following:
Enlarged below:
My results claimed: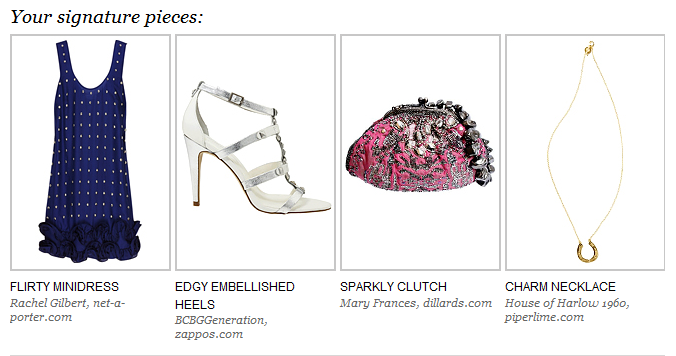 I would say the above describe me to some degree, except I'm a little more "matchy" and I have no sparkly clutches in my collection- though I am open to owning one or two! I have taken a big interest in clutches as purses (while I used to only carry oversized shoulder bags).I'm also learning to pair things outside of "playing it safe". Lately I am loving edgier shoes, higher heels, fun mini dresses, and cute charms actually.
Although, I'm not quite as out there and bold as SJP, a few of my friends have called me their version of Sarah Jessica Parker, which to me is such a huge compliment! I love, love SJP and her style! Funny enough I did have a Carrie moment today (reference: episode Anchors Away, Season 5, Sex and the City), when I walked out of the front doors of Walmart- I went to cross to the parking lot and my skirt blew up suddenly and showed off my underwear (all I can say is OHMIGOD thankfully I was wearing full-bottom coverage!) When there is that many people around, what can you do but laugh at yourself too?
Anyways, who is your style twin?