Let's face it. We can't be fashionistas everyday- common it's reality. Flip open a gossip rag while waiting in line at the grocery store....even the celebs who can afford make-up artists to make them look flawless and stylists to pull an outfit for them are real people too. We all have those days where we don't have the energy or just don't have anywhere in particular we need to be. I am not going to deny that you are very likely to run into me in the grocery store, the drug store, Walmart, or Starbucks in a pair of yoga pants and a hoodie (I own 10 hoodies- all in different colours). Mine you, on the other hand, there's no need to look like a disaster either. (At least make sure what you pick up off the floor is clean before putting it on, put your hair up or put a brush through it, and wipe off last night's make-up- this being the bare minimum.)
The reason I'm speaking of the low maintenaince, low profile look is because there are many days where I would just be more comfortable in a pair of my Lululemon cropped yoga pants rather than pulling on a tighter pair of jeans. Last Saturday I just discovered the alternative that won't sacrifice ultimate comfort, but allows you to still put together an outfit you can wear to a social outting.
My new favourite denim:
the boyfriend jeans
. I know, I know...this is a trend I'm a little behind on, but I tyically like my pants form fitting. Many things are on sale right now from the spring and summer stock (25-25% off!) at
Je Suis Prest Boutique
. I grabbed a few pair of sale jeans, deciding that I'd really like to try to destroyed denim. I loved a skinny jean that didn't fit me quite right, but when I pulled on the boyfriend jeans for the first time, I wasn't sure of the fit. Thanks to
Joy & Meg at JSP
who talked me through the process and how they fit! I decided this is something good that I've been missing out on!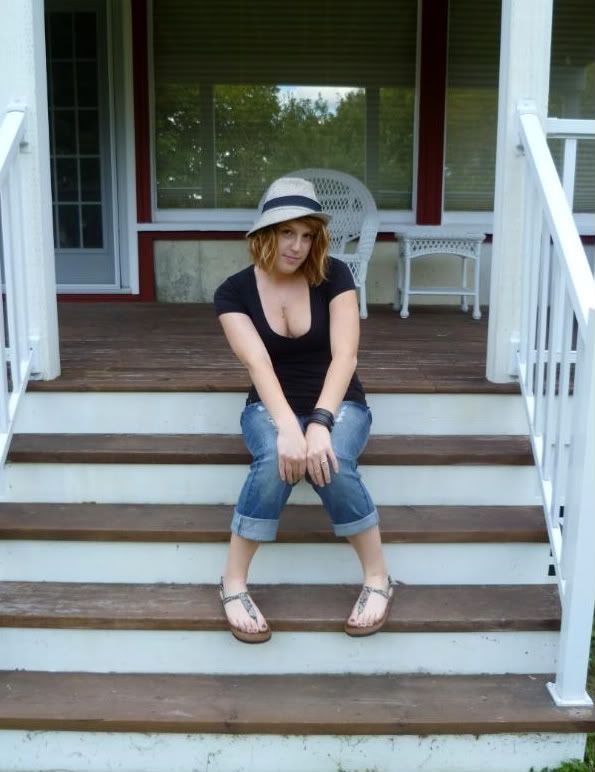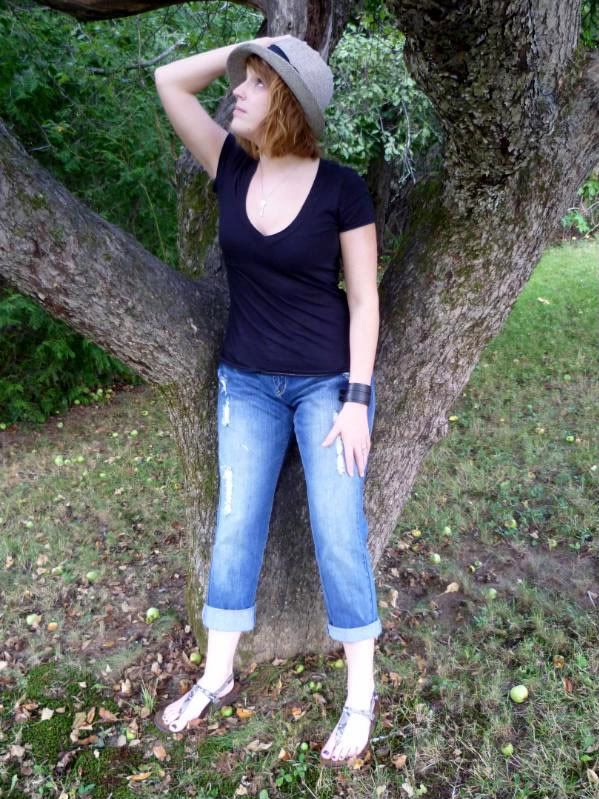 The Outfit:







Black leather cuff-

H&M

men's accessories (Dartmouth, July '10)






Sandals- Clarks- Winners (SJ, April '10)




Key necklace- Charm Diamond Center (SJ, May '10)
I wore this outfit out ot my parents' house for a late lunch to celebrate my sister's birthday. Older people don't seem to understand why we like to buy our clothes with holes already in them and therefore I got a bit of grief for it. But hey, they also don't understand why I'd fork almost $100 dollars for a pair of jeans! Probably a good thing I didn't tell my family I actually spent money on a t-shirt with holes in it too (also from JSP)? I thought my parents might become concerned their daughter couldn't afford to feed herself if I showed up with both items on at once!