I'm starting to see emails and articles on what's hot for fall. I was recently asked in
an interview by Jessica of Marvelous Things
,
"What pieces have you added to your fall wish list?"
Initially, all I heard upstairs was crickets (the ugly sound of silence). I had been so in love of the hues and textures that accompanied all summer trends when I realized I was slightly clueless to what was "in" for this fall. Despite the fact that I ♥ shopping...I couldn't stand or bear the idea of shopping for fall already. I was still stubbornly stuck on summer fashion!
Although the days are still sunny and hot, we have to face the facts that autumn is almost upon us. In a mere few weeks it'll be September. The kiddies will be going back to school, friends back to university, and I'll stop using air conditioning when I drive places for work.
So I decided to get caught up on what to I want to add to my wardrobe, what I want to remix for the cooler months ahead, and what needs to go from my closet. I decided to do some research and so I went to Indigo and grabbed a couple fashion magazines: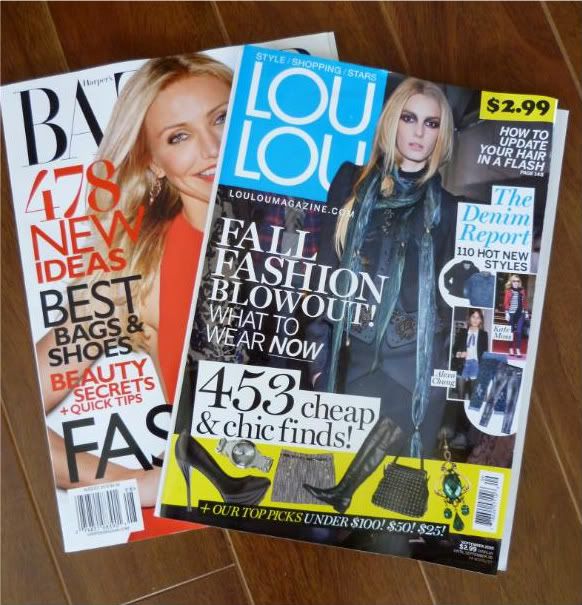 I went straight for my usual favourite:
Harper's Bazaar
and also grabbed a copy of
Lou Lou
, Canada's shopping almanac. I still plan on consulting other fashion literature:
Vogue, Glamour, Elle
. Look for upcomming fall-themed post topics, including
my top 10 wish list for Fall 2010
.
I also have some fantastic topics in the creative stages: a feature on a cute new shop uptown, as well as the low down on my wedding dress shopping experience last weekend!
Tomorrow is the deadline
for me to ask for you help in trying to win that Marc by Marc Jacobs purse!
Click here
to visit
Chictopia's Facebook page
and
"like" my comment on their wall
(you have to "like" Chictopia first). To enter the contest we had to leave a comment with our 5 essential items in our bag. The girl with the most "likes" of their wall comment will win a
Totally Turnlock Percy Bag
from Marc by Marc Jacobs! I have until
tomorrow
Sunday (August 15)
to seek all the help I can get! If you have a minute, please help me out!