I started out this blog as my personal style journal but I've come to realize there's another character that plays a big role in my blog: the city. Some people have described Saint John's evolving style as a sort of "fashion revolution". You see that the people in this city are more fashion-forward and that the style and variety available to us is ever growing. Saint John has really embraced style and fashion in the last year or so and it's tangible. You can see it in what people are wearing, thenew venues that are popping up, the sort of events that are being held, the conversations being held: there's a strong, cultivating interest. And I have to say, I love my city for it.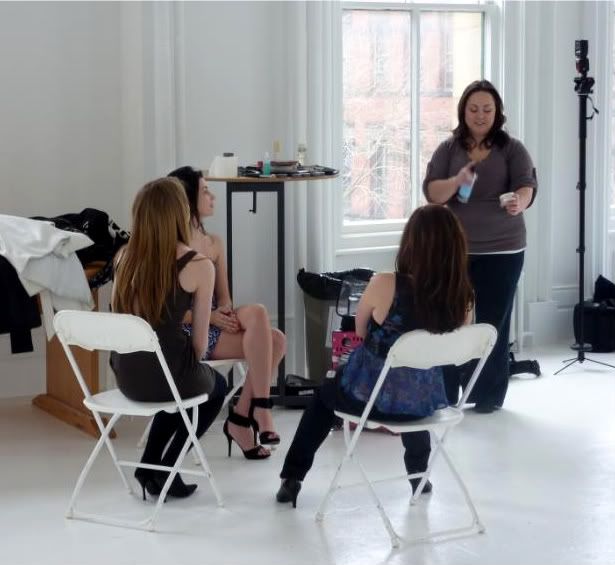 In the above photo, Janna Boucher and Fran Menton have their make-up finished and we see the photographers start to go to work!
Above: Carrie applies Beth's McRae's make-up.
The view below at the corner of Water & Princess Streets.
Since most businesses are closed uptown on Sundays, the streets seemed quieter than usual.
Shoes, shoes, shoes!
Pre-make-up application. Wearing a Free People top that I fell in love with the moment I put it on!
After having my make-up done by Carrie! She asked me what I wanted and I told her to go bold!
Second outfit w/ beige Aldo heels
Wearing: BB Dakota dress, Alternative Apparel sweater, belt & necklace all from Je Suis Prest Boutique!
Thanks to Kate for grabbing a few shots on my second outfit.
Emily Fraser
Fran Menton
Janna Boucher
Beth McRae