I don't know about you, but I have a weakness for sweets, especially when it comes to cake and chocolate! A few months ago I
featured cupcake creative Baye Husband on my blog
. Cupcakes by Baye, is a local cupcake business she runs out of her home. Baye's creative sense and her style come to life through her edible pieces of art. Having placed an order for a Christmas party I hosted, I can vouch that they truly taste as good as they look! (She also recently started making Pupcakes: a treat for your furry friend too!)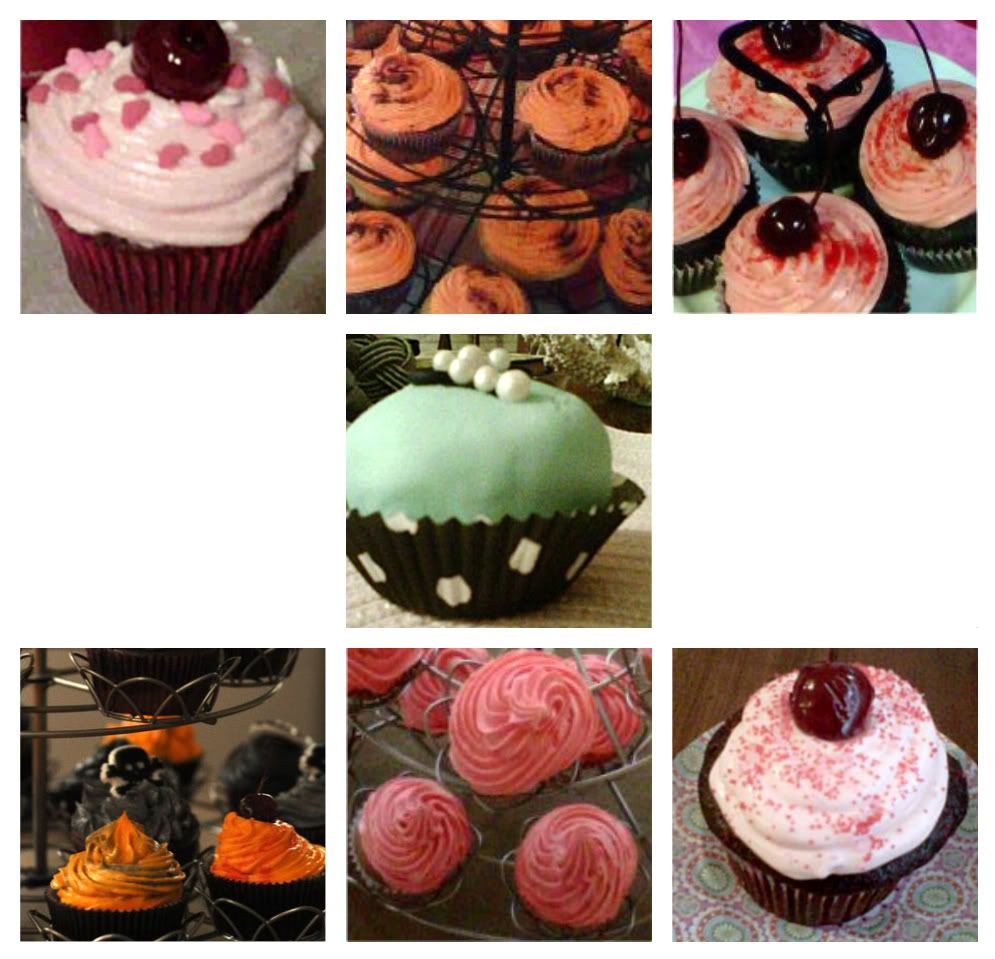 Baye has graciously opened up her kitchen up with the chance to win a dozen cupcakes! Check out the cheeky cake flavours she cooks up:
Bellini Punch: Vanilla buttermilk cake filled with a peachy custard topped with a light lemon flavored butter cream icing, garnished with fresh raspberries.
Mint Condition: Super moist chocolate cake loaded with mint chips covered in mint essence butter cream icing.
Dirty Secret: Chocolate cake with a surprise cherry center topped with chocolate cherry butter cream icing and with a cherry on top.
Two Timer: Marble cake topped with chocolate or vanilla butter cream icing and icing sugar or chocolate shavings.
Cosmopolitan: Chocolate cake topped with pink cherry butter cream icing garnished with cosmo cocktail glass rimmer.
Fist Pumping Pumpkin: Decadent pumpkin cake covered in cream cheese frosting. (Pecans optional)
Vanilla Sky: A classic,delicious homemade vanilla butter cream frosting on moist vanilla buttermilk cake.
Strawberry Sweetheart: Chocolate cake filled (in the shape of a heart!) with delicious strawberry puree icing. Topped with a "sweet heart".
Voluptuous Red Velvet: Rich, moist red velvet cake topped with cream cheese frosting.
Breakfast at Tiffany's: Cinnamon- vanilla buttermilk cake iced with maple butter cream, garnished with fresh bacon! A unique twist to make them taste just like french toast, and who doesn't love bacon on the side?!
Berry Good: Vanilla buttermilk cake, strawberry purée frosting, sparkly sprinkles.
Pucker Up: Vanilla-with-a-touch-of-lemon buttermilk cake filled with lemon meringue topped with lemon flavored butter cream icing!
Here's how you can enter to win a dozen cupcakes of your choice flavour from Cupcakes by Baye:
To be eligible to win, you must:
1. Live within the greater Saint John area


2. Follow Maritime Shopaholic on

Facebook

4. Comment below with your favourite cupcake flavour from Baye's inventory!
For additional entries you can:

(Be sure to leave a separate comment for each action to let me know!)
(+1) Follow Maritime Shopaholic (@mshopaholic) on Twitter
(+1) Follow Cupcakes by Baye (@bayescupcakes) on Twitter
(+1) Tweet about and link to the giveaway on Twitter
That gives you up to 4 chances to win (don't forget to leave a comment- up to 4- on this blog post for each entry!) This giveaway will be open until
Tuesday, March 15, at 5pm AST
. The lucky winner will be announced Wednesday, March 16!