So I bring you another double feature post of outfits from the
30 for 30 Challenge
. As I had mentioned before, I`m a little behind on posting since I`ve also been trying to cover other content of interest that has arisen while doing this challenge! I might be only posting
outfits 16 and 17
, but I`m actually on
Day 25 out of 30
! Six more days to go until I can include the rest of my wardobe back into my day to day wear!
The Outfit
Sweater- In Wear- Peepshow Girly Boutique (Halifax, Spring `08)
Tank- American Eagle (ordered online, Aug `09)
Pants- R&W Co. (SJ, May `10)
Shoes- Aldo (ordered online, Oct `10)
Scarf- American Eagle (SJ, Summer `09)
Headband- Splurge (Halifax, Fall `09)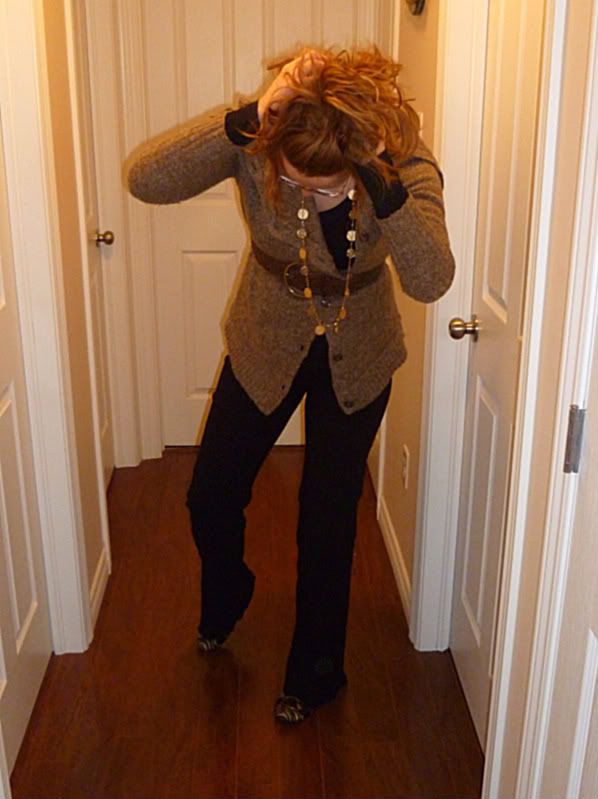 The Outfit
Sweater- Kensie- Je Suis Prest Boutique (SJ, Sept `10)
Pants- Ricki`s (SJ, Dec `09)
Top- H&M (Toronto, Sept `10)
Belt- Eddie Bauer (Moncton, Aug `06)
Necklace- Banana Republic (Freeport, Nov `10)
Shoes- Nine West (Freeport, Nov `10)
Well fellow remixers, how`s it feel to be almost done? Have you gotten any great outfit ideas or inspiration from other bloggers along the way? I know I have...look for an upcoming post on my favourites from the batch of 337 bloggers doing the 30 for 30 Fashion Challenge!