This weekend was spent in lovely
St. Andrews by-the-sea
celebrating the wedding of my beautiful childhood best friend, Marielle. (That's why I'm a little behind on posting.) Her parents have a lake-side cottage just outside the quaint and lovely ocean town and I spent much of my summers there with her, loving every moment of it! I have to say, some of my favourite memories circle around those times so I was excited to revisit the cottage for wedding prep and the rehearsal dinner. The wedding was at the tudor style
Fairmont Algonquin
and it was a wonderful day! However, there was the impending suspense of Hurricane Earl- they say a little rain on your wedding is good luck, but what do you say when there's a storm and an outdoor wedding on the same day?
(Stay tuned and keep scrolling down to see how it all turned out...)
This wedding made me excited to really get into planning my
upcoming nuptials next spring
. And speaking of wedding planning...some of the biggest decisions for a bride-to-be can be the
style and fashion
accompanying the big day- the shoes, the hair, the accessories, the bridesmaid dresses, and, of course, the wedding gown!
Marielle was a stunning bride and looked like an angel with her blonde locks and gorgeous white dress. I had to share with you some of the photos and dresses from her big day in a blog post!
My bridesmaid shoes, dress & bouquet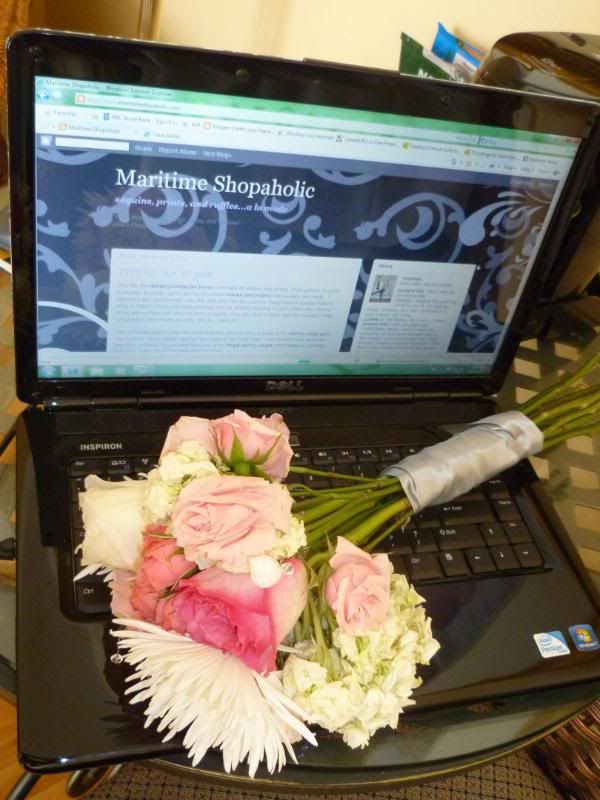 (The bouquet the day after.
The flowers are now hanging to dry in front of my kitchen window.)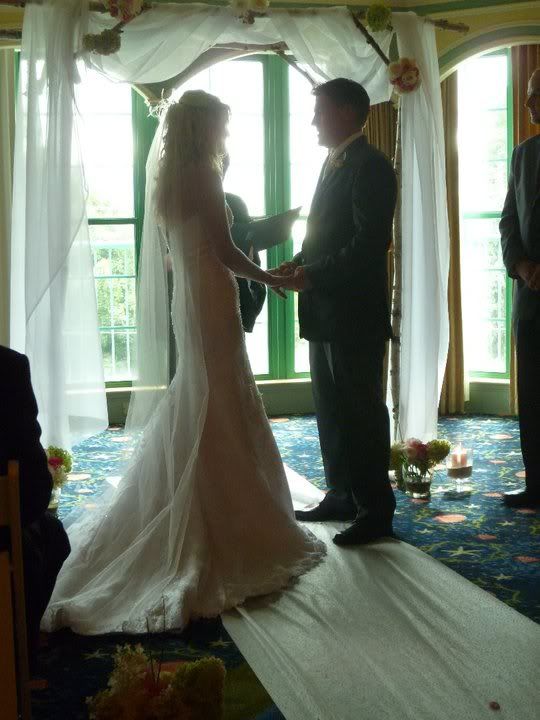 Marielle & Chad
September 4, 2010
So you'll notice the ceremony took place indoors. As a precaution they moved the wedding ceremony and reception from Katy's Cove (white sands, salt water) to the
ballroom
within the Algonquin. Even though it may have been a back-up plan, it's still a gorgeous venue. And the great news is that Earl ended up being a sad excuse for a hurricane (at least in Southern New Brunswick!) and the weather was beautiful (just a little rain in the morning and early afternoon prior to the wedding and pictures). Hence why we danced to the
Dixie Chicks song "Goodbye Earl
" at the reception!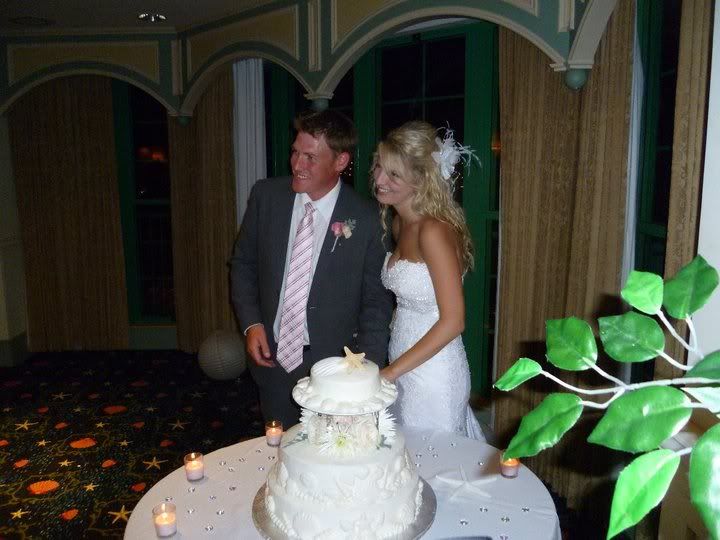 The newlyweds cutting the cake!
Marielle wore a gorgeous white trumpet-style gown with lace overlay, sweet heart neckline, and moderate a train. In her hair she wore a flowered feather hair piece and a long veil. She wore the same pink open-toed heels as her bridesmaids.
The maid of honour and bridesmaids (which includes me!) wore a pewter, satin
Impression
dress tailored to be above be a cocktail-length, pencil skirt with a sweetheart neckline. We donned pink leather
Unisa
peep-toe heels, that were adorned with a cute bow above the toes.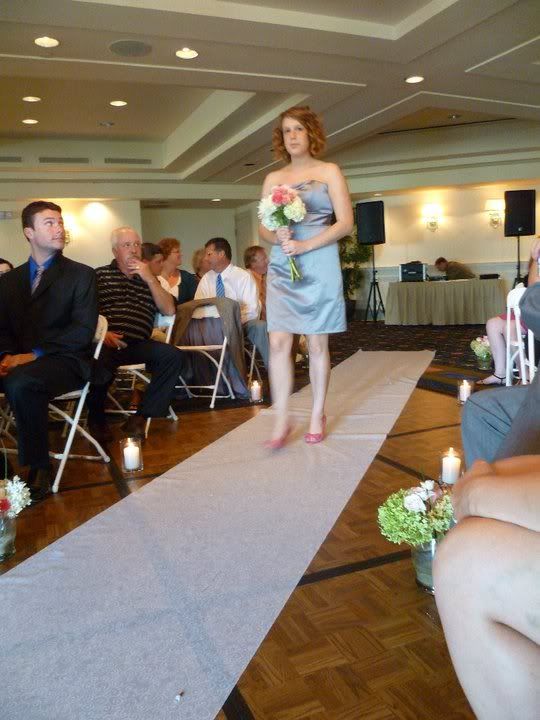 Check out a few photos snapped of the bridal party below...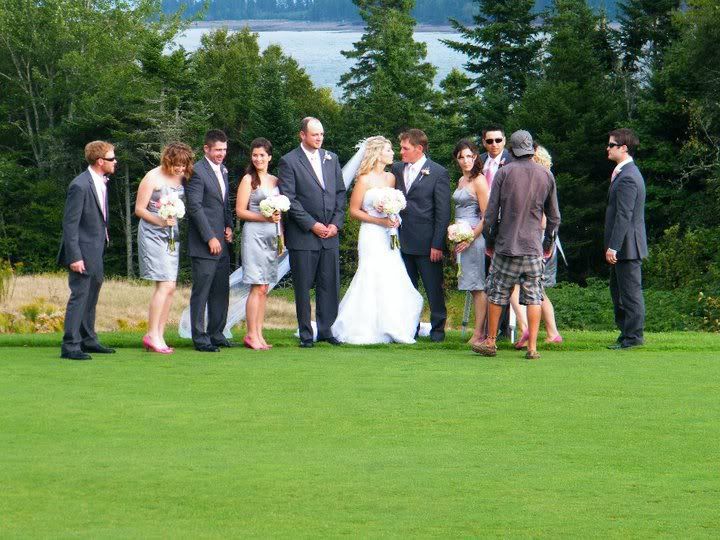 Standing on the 13th tee, Algonquin Golf Course
(These aren't the professional ones, actually there's the photographer in the plaid shorts!
Dave was great and did an amazing job- can't wait to see the finished products!)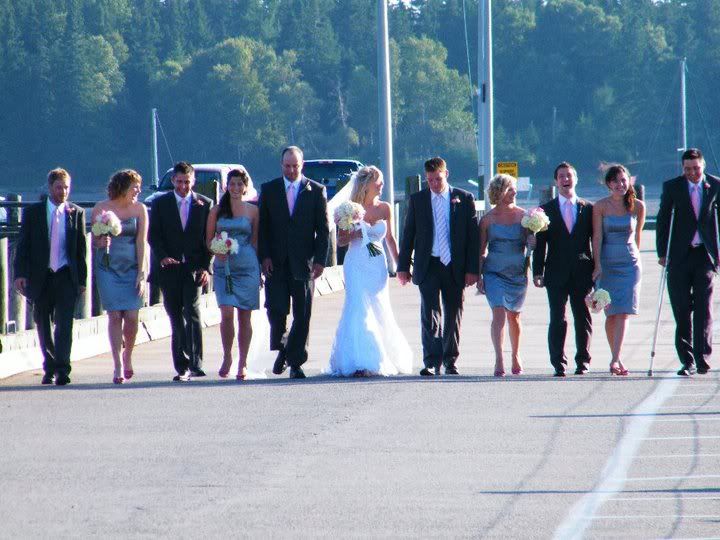 Walking along the wharf downtown