Tweet
Every season there is just one trend, perhaps 2, that I just don't understand. That or it just don't find it attractive or flattering. This summer it was the flatform- though I think that one might have been less popular than last season's heeled clog. While, I'll admit the clog has grown on me and I've warmed up to it, it isn't a fad I felt I ever missed out on. I respect the fact that I've seen many well-put together outfits that have included trends that just personally weren't for me and I will admit some people do manage to rock them! Recently I've seen a few trend reports and emails announcing a few trends for Fall '11 that I'm just not hot on:
1. High-Heel Loafers
Left: Nine West; Right: Boutique 9
Let me start our by saying that this is a look that I can see the right stylish women pulling off- whether it be a certain few bloggers, models in fashion magazines, or even a few local ladies I can think of.
But I just can't get past that fact that they just remind me of the clunky black heeled shoes girls used to wear when I was in grade 7. I love a pretty, well-made loafer, but I just prefer them closer to the ground without the chunky heel. In a particular sense I would only wear this a loafter to work- and in my profession (plus my lack of coordination) heels just don't make the cut. There are other aspects on the mens-inspired trend coming this fall that I can get on board with, but just not the chunky heel loafer. I just don't find them visually pleasing and they are just too casual for what I prefer to wear heels for.
2. Capes/Ponchos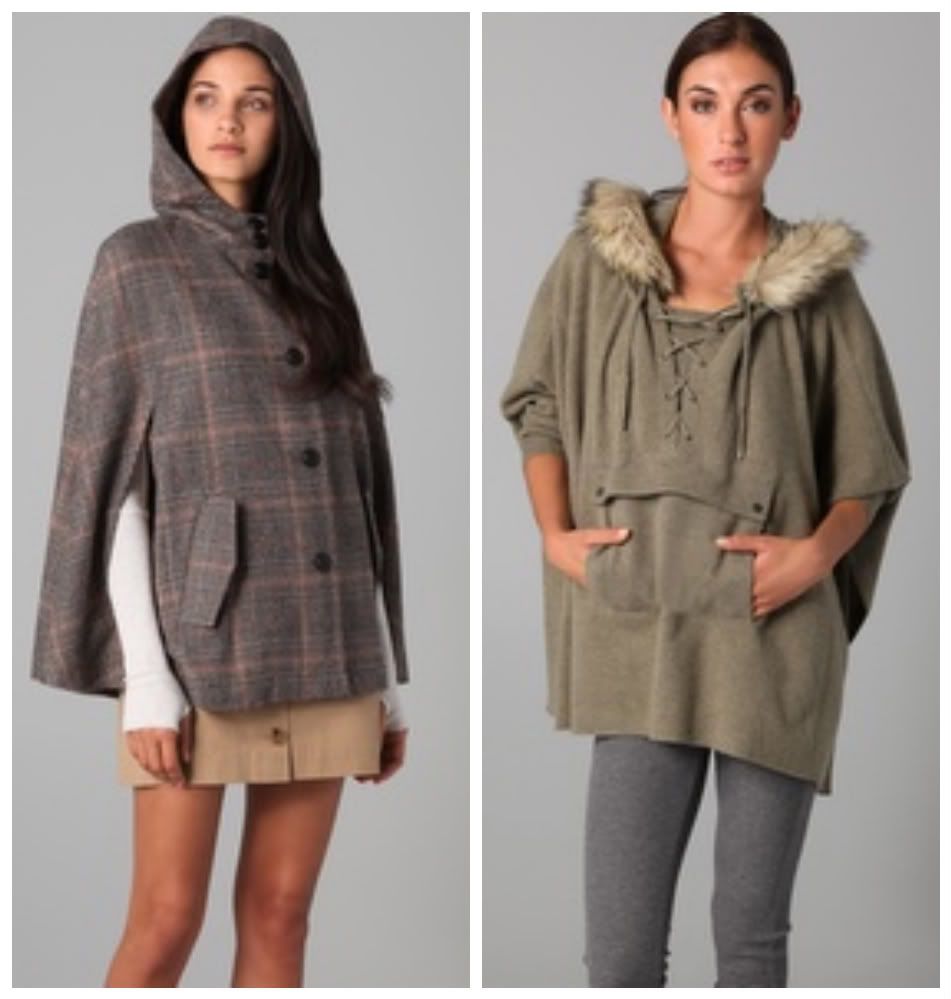 Left: BB Dakota; Right: Ralph Lauren
Again, this is a look that some people will have no problem styling- but I just don't see the poncho as a match for the general public. I feel this is a garment when you have to choose carefully and with the right bottoms, otherwise it may come off a little hobo-ish. The closest I've coming to actually liking this look is Rachel Zoe's
Ava knit cape
. But this is a woman who always knows how to get it right!
3. PJ-Style Pants
Left: Elizabeth & James; Right: Missoni
I recently received a trend report from
Who What Wear
in my inbox earlier this month on
silky pants
and I had to cringe (but to give them credit, I typicall do love their trend predictions!). And along with that I've been seeing pj-like pants and unflattering prints popping up on places like
Shopbop
- I just don't think these looks are going to work mainstream. There will be the eccentric, creative fashionistas who will pull this off but I just think that overall, wearing these types of pants will have me thinking people just didn't change when they got up for this morning. These could really work as great, cute lounge pants, but outside of the house, I don't think it's for everyone.
Don't worry, fall is just approaching, so there is still plenty of time to talk about what there is to love (and there is lots I'm loving)! What is your take on these 3 coming trends? Perhaps you do like them or have a different perspective on how the general public could style them? Would love to hear your opinions- please, do share!
Tweet