Tweet
One trend that has come back this summer has been the 90's crop top- but with its own twist of course. Unfortunately this is a tricky look to pull off and not flattering at all. I'm not in the tip top shape I want to be
(but I'm working on it!)
so belly-baring tops are off the table for me. The twist to wearing a crop top this summer is to pair it with a high waisted pant in order to allow more women to pull this look off and look good doing it- the idea isn't to try and bare a lot of skin.
Less is more
!
Where top crops tend to be flowy, this look doesn't tend to look good with my body type, they stop right at the widest part of my body- my hips and cover up my more narrow waist. On the end, I look wider and boxy: not flattering.
But with the crop top below, I just loved the pattern and decided I'd wear it with a pair of jean shorts as a beach cover-up. Then, I got the idea of belting it with a high-waisted skirt to keep it modest but also work with my body's curves.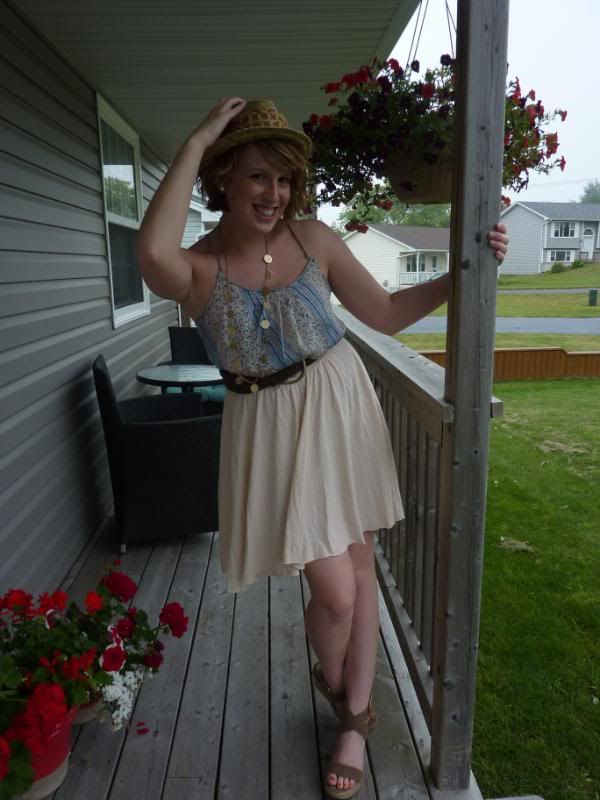 The Outfit
Crop top- American Eagle (SJ, July '11)

Skirt- American Apparel (Halifax, April '07)

Belt: Eddie Bauer (Moncton, August '06)

Necklace: Banana Republic (Freeport, Nov '10)

Hat: Gap (Moncton, July '11)

Scarf around hat: Coach (Toronto, Sept '08)

Espadrilles: Steve Madden- The Urban Shoe Myth (SJ, June '11)
Sometimes we have to remember that all trends aren't going to flatter all body types (I know I've stayed clear of a few myself)- or you can transform or modify them to make them your own! The most important thing is knowing what you feel comfortable it and knowing what looks good on you! Just like it's never truly one size fits all, it's never should be one look suits all.
Tweet