Tweet
Saturday afternoon, after a day of
many
errands, B kindly went to work and mounted both my new white board and my bulleton board (aka. inspiration board) above my desk. Now I have a functioning work station complete with space to write down my ideas as well as a spot to host visuals for things I need and want to remember. After all, in the run of the day, how many thoughts and ideas going through your mind, how I am to remember who are the people I need to return calls to, or what my sources were for a particular uprising trend. I already am the queen of post-its, so it was time to take it to the next level: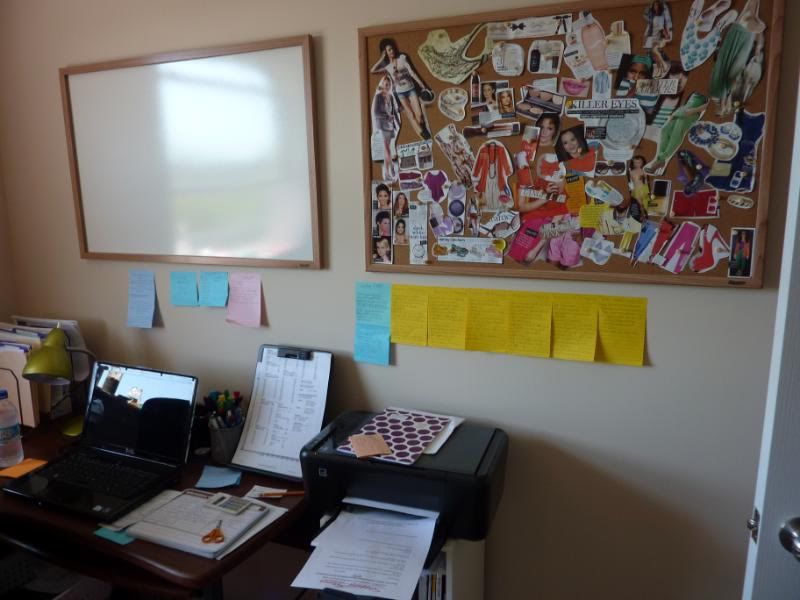 As a very visual person, this inspiration board is a
method I initiated last month
to keep track of and give cisual repretsentation to styles, ideas and items I'm spotting on style blogs, twitter, on the street/in-store, and catching from conferences via livestream. It's hard to keep it all harnessed in my brain!
So here is the current state of my board, complete for July:
Some of my favourite styles and items right now include:
Coloured denim: I'm on a mad hunt for a pair of skinny reds!
Tangerine nails
That beachy bronze glow across the cheeks
Clothing and accessorizes in water colours: teal, aqua, turquoise, mint
Purple eye make-up
Ensembles that just look causal, cool and effortless
Long, asymmetrical feather earrings
White and rose-gold watches
I need a large military-style cross body bag
I'm long over-due for a pair of beige round or almond top platform pumps
This fall, I am determined to work a bow-tie into my look!
Now that August is finally upon us, it's time to start digging through my stack of fashion magazines for this month and switch some things around on the board! What looks and ideas inspire your style right now?'
\
Tweet