I've played with the idea for some time now in regards to doing a video blog post (aka vlog); whether it be on my shopping finds, my closet, or beauty products. I bought a mascara the other day on a whim and decided testing it out might be the perfect opportunity for a video!
Review of L'Oreal Paris Double Extend Eye Illumintator Mascara

Let's get a better look of the contrast before and after I applied the mascara. Keep in mind, that aside from the mascara, my make-up (including eyeliner) was applied prior to the video. Let's check out a before and after looks:

The Product Line...
With this product you have your traditional black as a base coat. For each eye colour there is a different coloured illuminator to be applied as the second coat to serve as a highlight for lashes.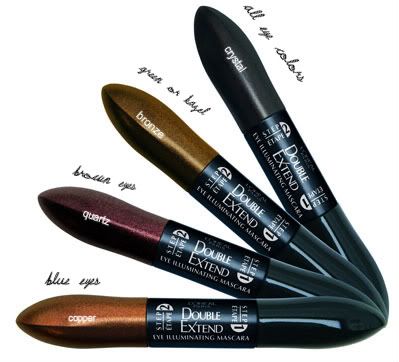 Longevity Test...
This product not marked as "waterproof" mascara, which I would normally consider an essential factor when looking for a smudge-free product. I wore this mascara for the rest of the day. It held up through a windy outdoor photo shoot and a ladies night uptown! No smudges were spotted. I was pretty pleased. Especially given the reasonable cost (roughly $13.00 CAD), I'd recommend this product.
So there you have it! My very first video post. I'd love to hear your feedback as well as ideas of topics you'd like me to cover in a future video blog posts. Also, I'd really like to know what yout favourite mascara is and why?