Tweet
`
Of all my favourite labels, I have to say it's
BB Dakota
that I can't get enough of this fall! The colour palatte, prints, and garment shapes are all very flattering. So far, I've invested in 3 pieces, with one on the way from
Shopbop
, and I've still got my eye on at least 2 more! Slowly BB Dakota is taking over my closet. This sheer animal print top, which is perfect for layering, as been great for the humid summer days and will stay within my fall and winter wardrobe with an added sweater or long sleeve top.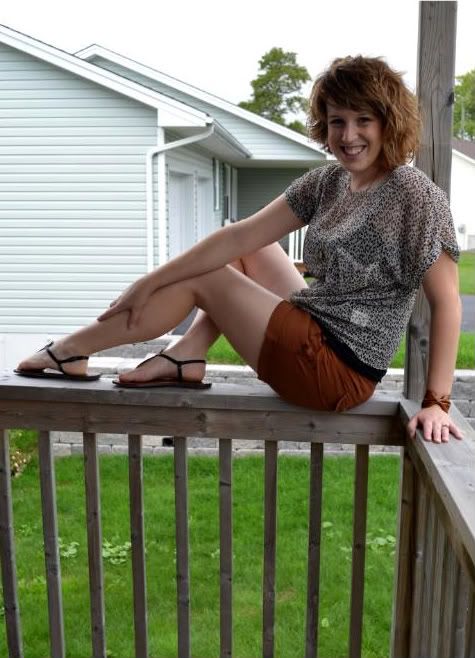 The Outfit
Sheer top: BB Dakota- Je Suis Prest Boutique (SJ, Aug '11)

Tank top: American Eagle (Fredericton, Winter '07)

Shorts: Old Navy (SJ, July '11)

Sandals: Sam Edelman- Piperlime (ordered online, July '11)

Necklace: came with Maison Scotch tee- Envy (SJ, May '11)

Leather bracelet: ESquared- Silver Daisy (SJ, July '11)
Mid-July I mentioned
my favourite colour picks for my fall wardrobe
. Those choices were definitely influenced by it still being summer, but are still applicable, as this fall trends indicate it's going to be a mix of bright colours and beautiful neutrals! However, with fall now creeping up on us, I've had a couple other colours that are catching my eye. Some of the fall lines I'm seeing online and in-store have me interested in
red, rust and similar spicy colours, indigo and navy blues, burgundy, pine and kelly greens
.
Have you started buying for fall yet? What colours are you being drawn toward for Fall `11?
Tweet