So, I know many people have been wanting to know what exactly is happening for
New Brunswick Fashion Week
. A lot of people have caught word about it, but many still don't know exactly what, where, and when it's happening. Things seem to be coming together and now I have a few more details to share with you, as well as the logo, if you haven't seen it already:

Winning logo design by Danielle Queen, also a clothing designer to be featured in NBFW
New Brunswick's 1st fashion week might be a modest one, but it's a good start to promoting the fashion industry here in Atlantic Canada. Currently, most of our trained designers either have to move away to pursue their career or travel another job avenue because the infrastructure and support just isn't there to allow them to create and produce their pieces in a time and financially feasible manner. We've seen improvement and interest increase here rapidly in the last 5 years and the retail aspect is growing stronger. However, in order to support our designers, there needs to production and marketing and accessibility to textiles to keep them here and attract buyers. So here's the next step to opening those doors.
According to the issue of Here magazine published last week, we can expect to see runway shows, an accessories show, a body awareness workshop, a makeover workshop, a hair and make-up fantasy competition, and a creative catwalk. NBFW will be set in Moncton and Saint John between September 30- October 7. Most of Saint John's excitement will be happening into one big day on Friday, October 7 at the Trade and Convention Centre. The exact line-up of festivities and events I am not yet certain of, but expect to find out more earlier next week when Buchanan & Co. host a press/media party.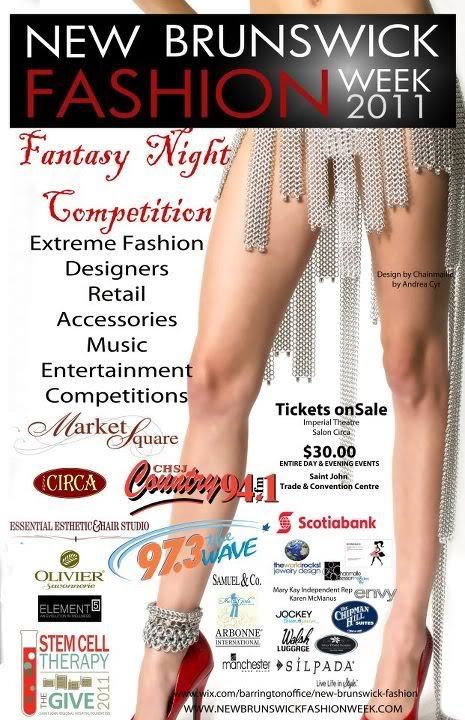 Event poster for an evening at the Trade & Convention Centre, October 7th
Things worth knowing:
You can purchase tickets for October 7 from Salon Circa, Manchester Shoe Salon, or Imperial Theatre

Tickets are $30 for the entire day and evening events; $10 for the afternoon

More volunteers are needed to help with registration, dressers, back-stage, and set up. Contact

barringtonoffice@gmail.com

if you're interested.

Bloggers, photographers and press interested in covering NBFW, contact

barringtonoffice@gmail.com

to receive a media pass and an invite to the media party next week

Be sure to tune into RogersTV tonight (Sept 28) at 8pm for Dropline: They'll be dedicating an entire hour's show to NBFW featuring organizer of NBFW Linda Buchanan, Salon Circa hair stylist Danny Coholon, owner of Manchester Shoe Salon Cathy Hutchinson, and designer Danielle Queen.

If you can't catch the Dropline segement tonight (like me, because I'll be at the Brunswick Square Fashion Show) you can also see it again on RogersTV on Sunday, Oct 2 @ 8pm!
Some of the VIPS (the designers!) being featured during NBFW:
And there you have it: everything I know as of now. I'll be sure to fill you in with more specifics regarding Friday's line-up when I find out more. Will you be attending any of the NBFW events?
*Correction issued: If you read the blog post earlier, I apologize- turns out the TV segment on RogersTV is actually tonight, Sept 28, not next week as originally posted.