So the fall shopping has begun. For some reason, despite the fact that I don't have a "convenient" back-to-school reason to shop anymore once September hits, I still always have a list of needs and wants. Here are 3 items that still top that list right now:
1. Coloured Denim
a) Paige Denim $179.00 | b) J Brand $176.00 | c) American Eagle $44.11
People may have heard me talk about how much I've been in love with J Brand's red jeans over the last couple of months. I hesitated on this purchase just because I couldn't bring myself to spend $176+ on a trend I wasn't entirely sure would last multiple seasons, despite the fact that I love them. I did spring for J Brand's olive cargos for a pricey detail last year, but these are a pant that have already lasted multiple seasons of still being relevant. To solve my indecisiveness over the matter, when American Eagle was having a 40% off sale this past weekend, I came across a red jegging on their website- sold!
Another colour for denim that I can see being popular for fall would be in a burgundy- although you may still have to hand over a larger fee for those too, word on the street says that Joe Fresh will be bringing in a more affordable pair...
2. Tie-Neck Blouses
a) Ark & Co. $49.00 | b) Marc by Marc Jacobs $278.00 | c) Rachel Zoe $295.00
This style of blouse always makes me think
Rachel Zoe
therefore I wasn't surprise to see it in her collection for fall! (Despite the fact the it's a big hit for fall, the fact that it's reminiscent of RZ to me is enough to sell me on it.) Although the Marc Jacobs and Rachel Zoe blouses are among my favourite, there are more affordable blouses on
Piperlime
that I would likely give in to first because they wouldn't be as harmful to my bank account.
3. Hiker Booties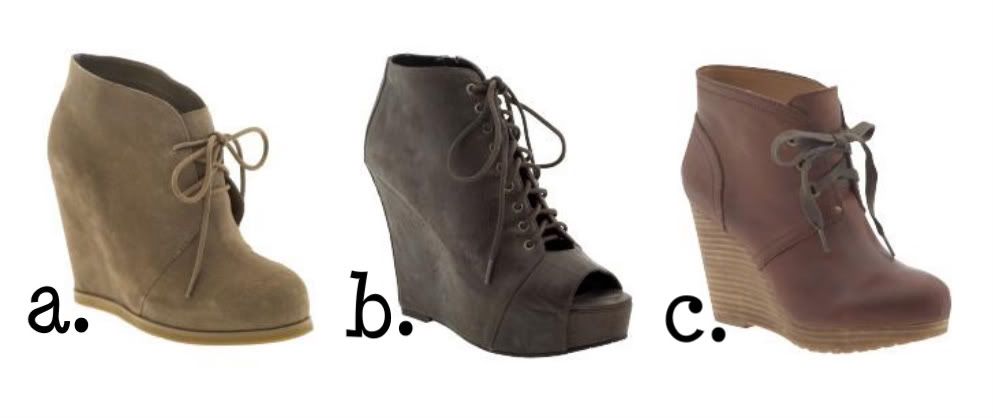 a) DV by Dolce Vita $89.00 | b) Enzo Angiolini $139.00 | c) Lucky Brand $129.00

Actually, I'm a little torn between the hiker bootie (featured above), riding boots, and motorcycle boots for fall. Frankly, I am just craving a new pair of boots! I'll end up buying them locally though, rather then online. The hiker bootie is incredibly cute though- it mixes rugged and feminine and I like that sort of oxymoron combo- it means you could sport them with jeans, or wear 'em with a skirt or dress! If I don't go for a flat pair of boots this fall, I'll be keeping the heel to a minimum or a wedge- much more practical, thereby increasing my future cost-per-wear!
Alright, now that I've shared a few fall must-haves, I have 2 questions for you:
What particular pieces are you excited about this fall?

Does anyone (in the Saint John area) want to go in on a Piperlime order with me...? :)