Half the time I begin typing up a post, I probably talk about the weather. Which might be the go-to topic to strike up when you have little else to say, but it definitely has relevance when reflecting on my outfits and why I've chosen them.
Living in the Maritimes, our weather can be quite variable and you can never trust the forecast until about 5 minutes in advance. And there are times I'll look at the Weather Network pulled up on my laptop screen and glance outside to see that the two don't even match up! I live in the foggy city where things can go from cloudy to brilliantly sunny, fair to pouring rain. But the worst has to be the cold wind we've had with all the rain over the past couple of days! Layers (and a waterproof one on hand in case) are a necessity this time of year.
Mother's Day brought about an overcast day that deceivingly warm. B and I ran some errands, grabbed our usual Starbucks and took a drive out to Rothesay to the Renforth Wharf. When we got out the car, there really was no wharf in site...as it was buried below the high waters.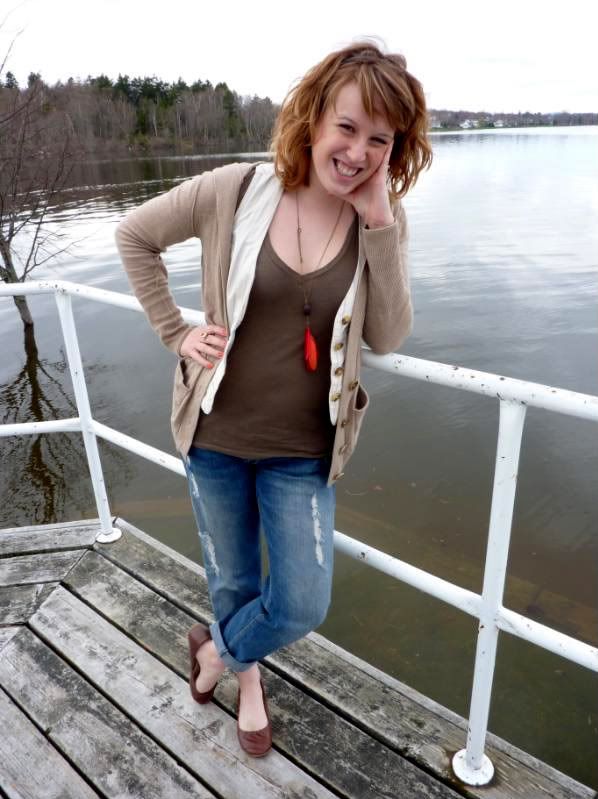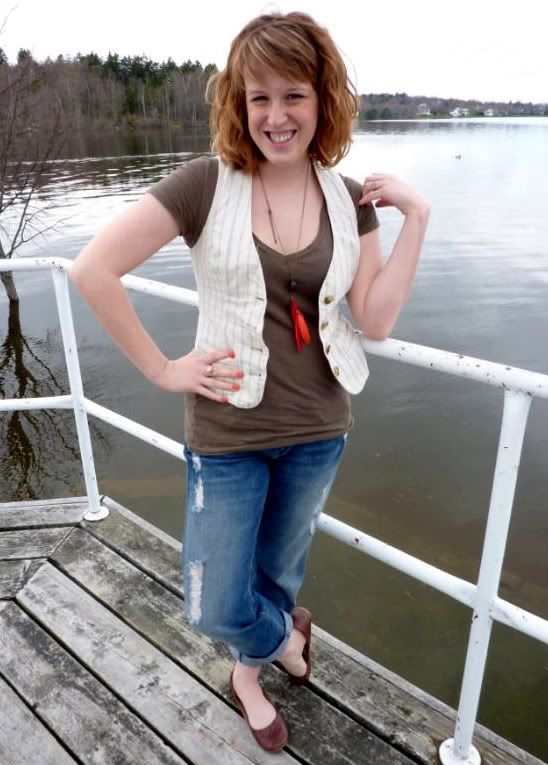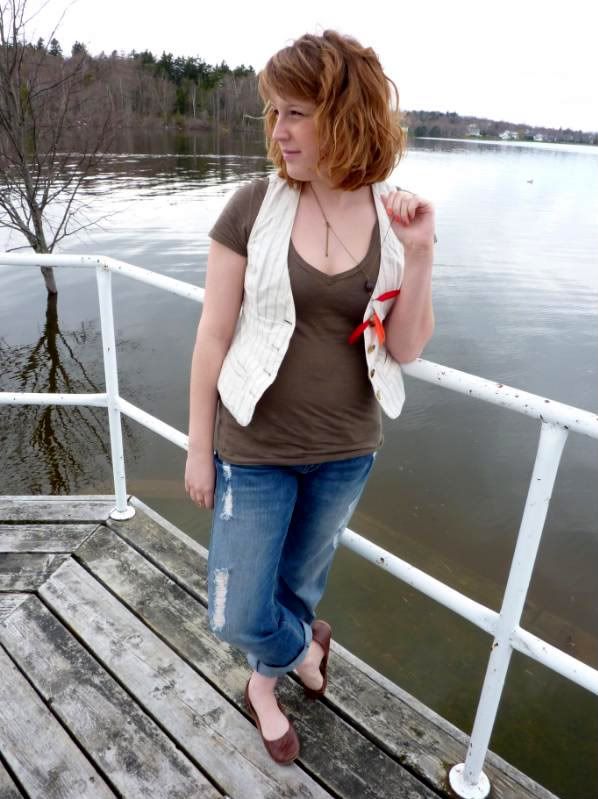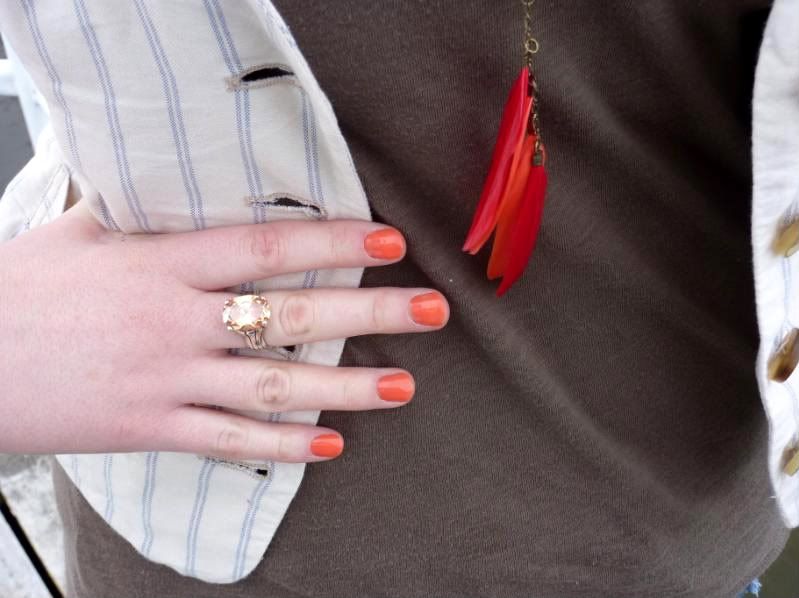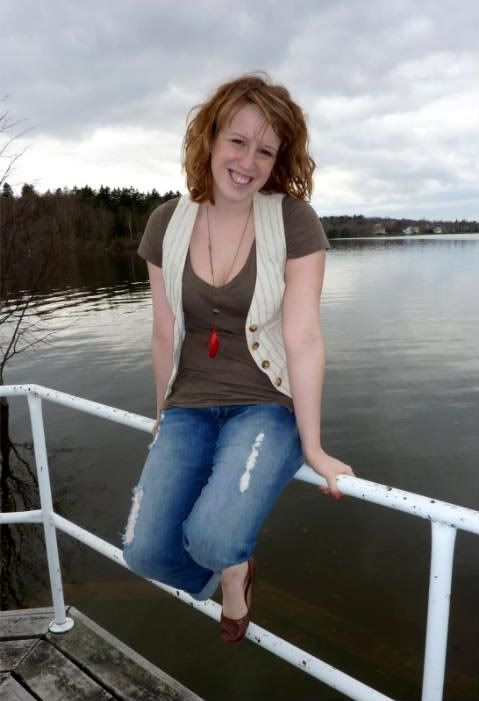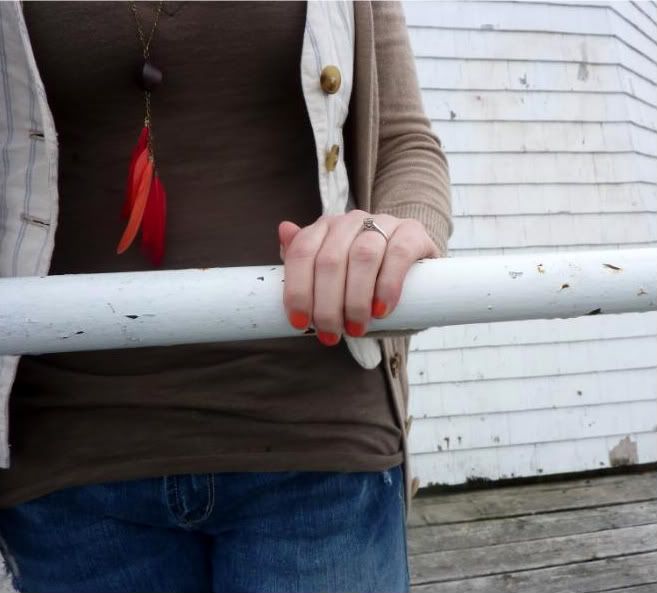 The Outfit
Cardigan: American Eagle (SJ, Sept '08)

Vest: American Eagle (SJ, Fall '09)

T-shirt: American Eagle (SJ, Fall '10)

Boyfriend jeans: iT jeans- Je Suis Prest Boutique (SJ, Aug '10)

Necklace: H&M (Toronto, June '10)

Shoes: Aldo (Moncton, April '11)

Ring: Silpada (jewelry party, Summer '10)

Nail polish: "Peachy" by Gosh- Shoppers Drug Mart (SJ, May '11)
I've gotten quite a few compliments on this lovely coral shade I'm sporting on my nails, but I'll have to admit I totally took inspiration from Kate (
O My Heart
) when I saw her wearing it in a
post last week
!
I really can't wait to see some sun- then perhaps I won't be so insecure about showing off my pale legs and manage to part with my pantyhose!
Tweet