Remember
Melvin's Bar
on Canterbury Street in uptown Saint John? Maybe not many of us frequented the venue, but it became my place to have a few beers on St. Patrick's Day when
O'Learys
(our popular local Irish pub) was overflowing at the tap. I was a little disappointed to see the place empty after seeing the lights on and bands planning for as long as I could remember during my countless walks from
Churchill's
to
O'Learys
to finish the night off.
As of recent, the old Melvin's location is being renovated into a new, swanky bar titled
The Canterbury Lounge
. I walked by the new place last week and took a few photos of the progress thus far- the Canterbury Lounge is slated to open next
Thursday, August 5
!
Here's a few of the photos I snapped from the curb on Canterbury Street: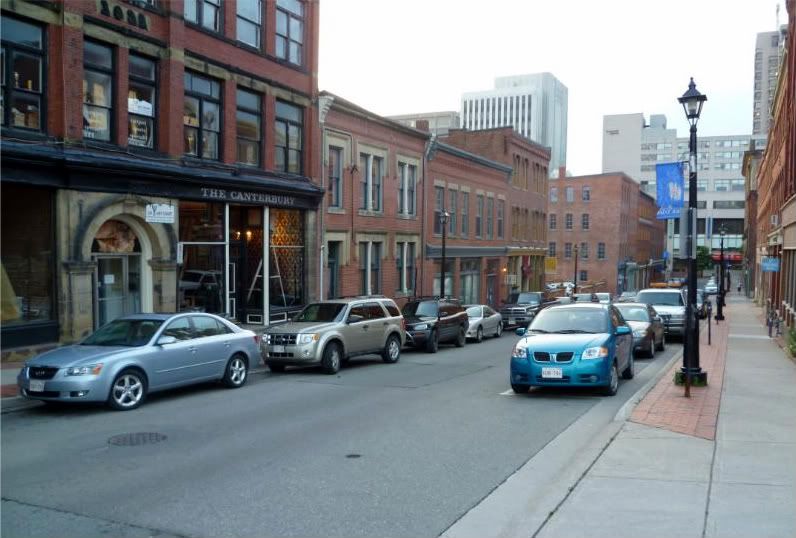 You can catch a glimpse of the fancy black and white wall paper as well as the lovely chandeliers. I also spotted LED lights over the bar. One of the owners promises the bar will be fun and stylish without being pretentious. As I said in my
very first blog post
, I'm all about supporting business in Saint John, especially if it has something great to offer. I was really disappointed when my favourite martini and cocktail bar,
Sebastian
, closed earlier this year. I'm hoping this bar might be able to help fill that void of an upscale uptown bar that the city has been missing. Personally, I can't wait to get dressed up and check out the
Canterbury Lounge
- so far, it's shaping up to be my kind of place!
You can find an article written on the new nightlife spot in the Telegraph Journal. Both owners of the Canterbury Lounge were interviewed and a few pictures of the beautiful interior are featured as well.
Click here to read
.
Though the bar itself might not be up and running yet, you can check out their website
here
.
See you there when it opens!