This past weekend my little blog received a little love in Saint John's Telegraph Journal. I mentioned a few weeks ago in
this outfit post
, that I had had the pleasure of meeti
ng up with Kâté Braydon, photographer for the newspaper, at one of my favourite uptown stores, The Urban Shoe Myth.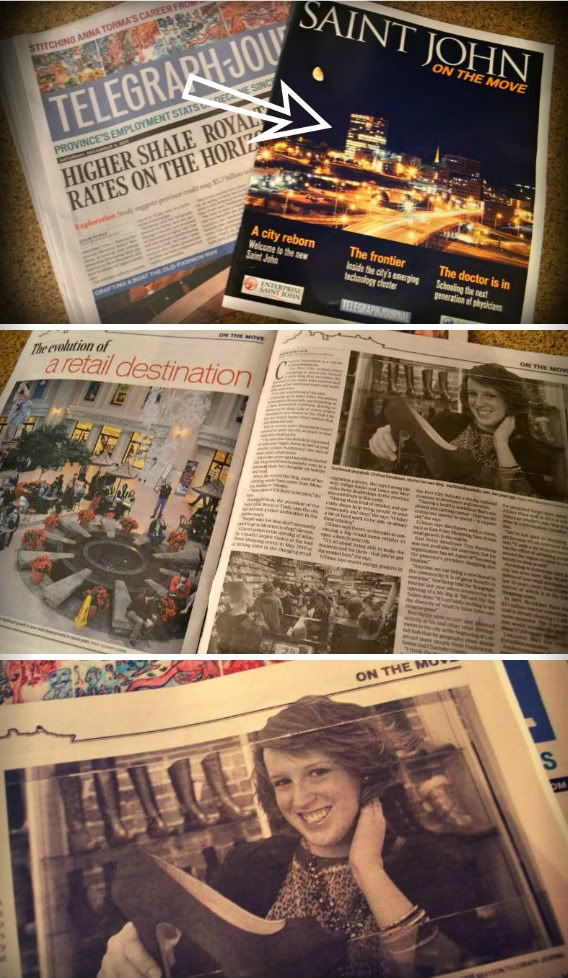 Last month, I was contacted by report John Pollack about my outlook on shopping and retail growth in Saint John after he had come across my blog. He had already spoken to many business individuals on their perspective and I suppose my viewpoint would come from the (experienced) consumer. Although I'm credited as a "confessed shopaholic" in the article, I can't deny the the title given the name of my blog, I'd describe it as more of a whimsical reference to my consumerism and interest of what is available here in our port city. While I will admit I do love shopping, my "cash diet" method keeps me in check- and it is really my love of fashion and interest in pushing the envelope of style that keeps me writing this blog!
If you had an opportunity to read it, the article, titled
The evolution of a retail destination
(page 34 in the
Saint John on the Move
magazine insert)
,
shares the opinions of myself, Imelda Gilman (president of the
Saint John Board of Trade
), and statements from a number of developers that Saint John's retail is growing. We've turned away the age old notion that people feel the need to leave our city to shop. As our city continues to evolve we're seeing more enjoyment and commitment in regards to supporting local.
Thanks to John and the TJ for the shout out on my blog! Although I made a special effort to buy the newspaper after hearing the article was out, I'm looking forward to the make-over of the
Telegraph's website
, which I hear is about to be released very soon.