Last month I was invited to an event at the Mercedes-Benz dealership that mixed luxury cars with luxury goods (fashionable clothing that is). Am I in the market for a fancy car? Unfortunately not and while I'm perfectly happy driving my economical little Corolla, I certainly wouldn't shy away from a Mercedes if my bank account was grow by a good margin! For now, the most expensive new transportation I can afford is quality footwear!
The event, did perk my interest since it had a fashion aspect and had some of my favourite retailers involved. My initial thought was to wonder how do luxury cars and fashion mix, but then I remember the company and fashion industry are quite often making a partnership. After all, you do know that
New York Fashion Week
's main sponsor is Mercedes-Benz, right? Mercedes-Benz Canada has its own links to LG Fashion Week in Toronto: launching the
Mercedes-Benz StartUp
competition, which is in an initiative that is intended to provide a platform to discover and support up-and-coming Canadian fashion designers.
Although I was unable to attend, I was sent a few photos to see how the local Mercedes-Benz dealership was mingling with fashion and supporting local at their annual customer event. Photos are the work of the lovely Kelly Lawson (
Lawson Photography
).
Ashley with the 2012 Mercedes-Benz C63 AMG Coupe
Jewellery: Goldsmith Studio | Watch: Goldsmith Studio (Gucci)
Natalie with the 2012 Mercedes-Benz ML Truck
Jewellery: Goldsmith Studio | Watch: Goldsmith Studio (Gucci)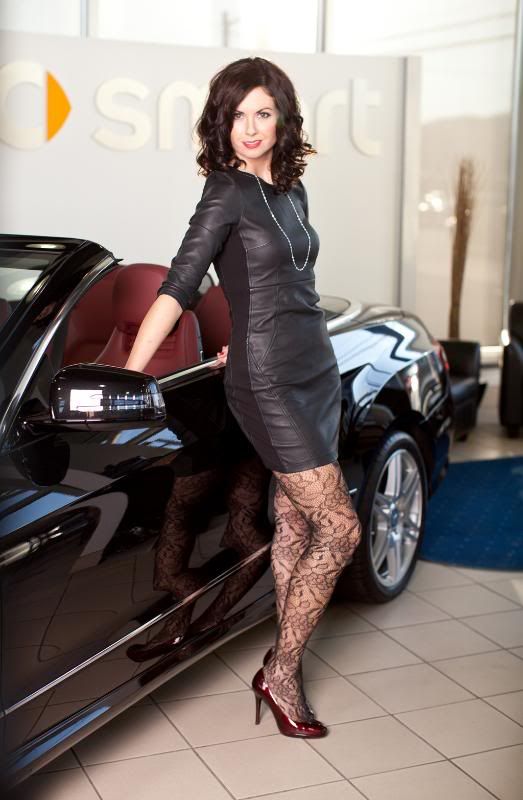 Mandy with the

2012 Mercedes-Benz E350 Cabriolet
Jewellery: Goldsmith Studio | Watch: Goldsmith Studio (Gucci)
My personal favourite was the outfit on Mandy. I love the faux leather dress- the fabric has a certain sex appeal and with tasteful necklace the mini skirt is definitely a go! I'm also a fan of patent leather and the rich red hue of the Stuart Weitzman pumps.
This blog post is not sponsored content and is only my reflection on how this local car dealership mixed an element of fashion into their event. To support Maritime Shopaholic and have your fashion-related event officially covered on this blog, please see the Sponsor/Collaborate page for more details!